I understand depression – struggled with it throughout my teen years and early twenties – even led me to have suicidal thoughts. Then, when I met Christ in 2003, I discovered what the Bible says about depression and I prayed that God lift the burden off my shoulders and, "Poof!" it literally vanished instantly. Today, 15 years later, I can confidently boast in the Lord that I am still free! My hope and prayer is that you and your loved ones experience this type of miraculous deliverance in your life, but if your healing doesn't come right away, then I highly encourage you to check out essential oils for depression because there are no other substances on the planet that I know of that can boost your mood and help get you out of a funk so effectively!
In all seriousness, if you or a loved one struggles with depression, it is crucial to find safe and effective treatments. If at any time you have thoughts of harming yourself or others, please contact the National Suicide Prevention Hotline at 1-800-273-TALK (8255) or www.suicidepreventionlifeline.org (1) any time, day or night. You were never meant to deal with depression alone.
According to the FDA (2), many people who are depressed find conventional psychiatric or psychological treatment very helpful. However, many express concerns about the long list of documented dangerous side effects (3) associated with mind-altering drugs and seek safer alternatives.
How do Essential Oils Alleviate Depression?
Depression is associated with changes in brain chemistry including corticotropin releasing factor (CRF), serotonin (5-HT), and tyrosine hydroxylase (TH). There is evidence that inhaling the dilute, diffused volatile oils of certain essential oils can influence brain chemistry in several ways.
These compounds enter the blood circulation system through the lungs and effect brain chemistry when they are carried by the blood to the brain. Another path that volatile oil compounds travel to affect the brain's limbic system is through its connection to the olfactory (sense of smell) system where they bind to olfactory receptors. From there they reach the deeper parts of the brain that control things like stress and emotional responses through a fascinating journey that is beyond the scope of this post but worth a read (4)!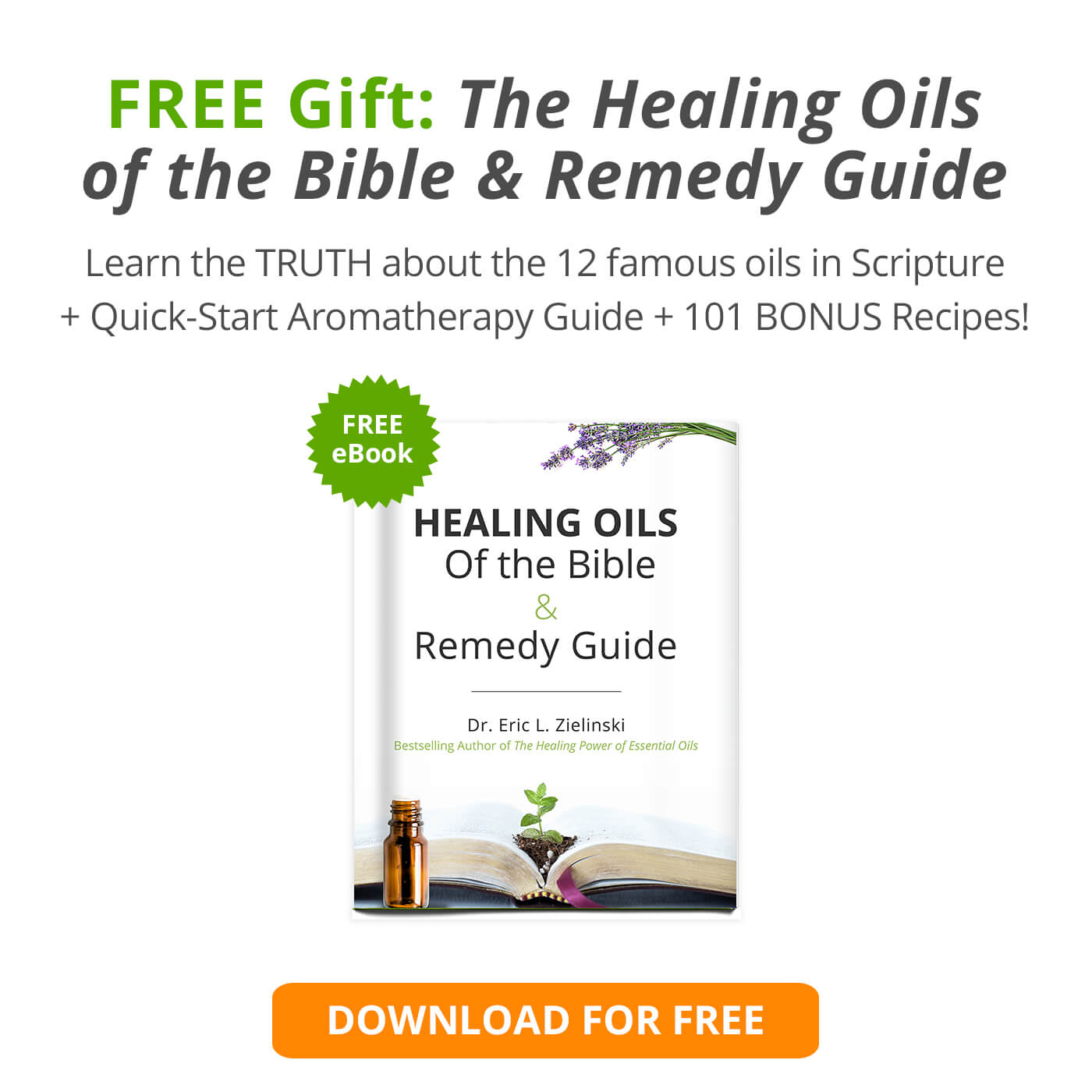 Top 18 Essential Oils for Depression
With the growing popularity of essential oils, many people have strong opinions regarding which oils may help your symptoms. Clearly, an essential oil guide cannot replace the advice of a knowledgeable medical professional.
Use of the following essential oils for depression symptoms is backed by stringent studies demonstrating their effectiveness. As with any home treatment options, always use common sense and follow safety guidelines as well as the advice of your medical professional.
1. Bergamot Essential Oil
Bergamot may help you avoid the side effects of anxiety drugs while providing many of the benefits. It was shown in this rat study (5) to normalize and balance brain chemistry. Aromatherapy best practices acknowledge a similar effect in humans that bergamot is a great essential oil to reach for use as an anxiolytic (anti-anxiety).
2. Cedarwood Essential Oil
This essential oil is a powerful tool if your depression or anxiety symptoms are negatively impacting your work performance—this applies to schoolwork and housework, too! The woodsy aroma not only seems to improve performance (6) in stressful working conditions, but may be useful for a variety of depressive symptoms.
Keep in mind that the study above doesn't state which cedarwood was used but the most likely candidates are Cedrus atlantica or Cedrus deodara. Aromatherapists are most likely to use Atlas Cedarwood for these purposes. This essential oil for depression helps you leave work worries behind and transition to a peaceful, stress-free after-work routine.
Australian red cedar essential oil is the specific oil hailed in this rat study (7) as a "new candidate for curing depressive disorders". As you can see, the cedar family has a lot of potential in this arena and you may try experimenting to see which works best for you and your specific symptoms.
What if I'm Sensitive or Have Allergies? A few people are sensitive to cedar, so if you have cedarwood allergies try one of the other essential oils for depression from this list instead.
3. Clary Sage Essential Oil
Clary Sage demonstrates mood-enhancing activity (8) even when the mood is altered due to hormonal changes associated with menopause. Clary sage essential oil influences brain chemistry to help restore more normal levels of key brain chemicals responsible for thyroid function and depression.
4. Frankincense Essential Oils
It is obvious why frankincense essential oil is a favorite when dealing with depression, particularly for women. It helps balance hormones and brain chemistry with a heavenly, deep and resinous aroma.
In this 2008 study (9) it was used alongside two other essential oils for depression, lavender and bergamot, to ease depression in terminally ill patients. Not only did it improve their depression but the mixture diminished their pain levels as well.
Learn More About Frankincense Uses, Benefits for Cancer, and More Given the results of this and other studies, it's no surprise to anyone that frankincense essential oil is a favorite for many purposes. But one of my favorite uses for frankincense essential oil is for cancer support.
5. Geranium Essential Oil
This study used (10) geranium during other depression treatments such as massage. Geranium essential oil increases the antidepressant impact of other oils synergistically. The rosy scent is immediately mood-enhancing and relieves anxiety.
6. German Chamomile Essential Oil
Chamomile is known to be calming and soothing to numerous body systems, as this review highlights(11)! Used both internally and externally, German chamomile and Roman chamomile have destressing compounds present in both forms.
Chamomile essential oils also significantly decrease symptoms of depression when diffused during times of stress or low motivation. When choosing from essential oils for depression, choose chamomile if your anxiety symptoms are also causing digestive upsets. You'll be surprised how much it can help!
7. Lavender Essential Oil
If you can use only one of the essential oils for depression, lavender is one of the best. It has a long and well-documented history as a calming and healing agent.
The Power of Lavender in Essential Oil Research Lavender essential oil has been used in a variety of studies both in mice and humans and seems to show an ability to: relieve stress and anxiety by acting directly on brain chemistry, protect brain cells from neurotoxins in vitro, restore normal function after caffeine excesses, relieve stress, offers possible protection to the brain from chemical damage up to and including Alzheimer's Disease, treat anxiety disorders, treat inflammation, headache, stress, and depression, and to ease some premenstrual tensions.
While everyone must address the cause of depressed feelings, it's safe to say that lavender essential oil can improve some mood upsets or restore motivation level, and support your other healing efforts.
8. Lemon Essential Oil
All citrus essential oils have a role in addressing depression, but lemon's brightening effect may be the most powerful of all. Not only is lemon essential oil great at improving mood, it also can help lift the brain fog which frequently accompanies symptoms of depression.
9. Lemon Balm/ Melissa Essential Oil
Melissa helps to relieve agitation, reduce social withdrawal, increase time spent on constructive activities, improve brain chemistry, and it works synergistically with lavender.
For example, one study published in 2012 demonstrated the ability that lemon balm has to directly affect the brain and neurotransmitters. (12) The specific action studied actually has implications for improving cognitive function and even reversing the effects of Alzheimer's disease.
Learn more about lemon balm (aka melissa) essential oil here.
10. Nutmeg Essential Oil
Nutmeg essential oil when diffused, closely resembles the intended results of antidepressant medications without the dangerous side effects in this rat study (13). The benefits seem to be increased if the nutmeg essential oil is combined with Thai black ginger extract (a variety closely related to common ginger root). It's warming and stimulating – perfect for beating the blues!
11. Orange Essential Oils
Both the sweet and bitter orange trees produce essential oils that have antidepressant benefits. Neroli essential oil, distilled from the flowers of the bitter orange tree, demonstrates significant anti-anxiety effects. We see people use it successfully with hormonal mood swings and stress.
Sweet orange essential oil offers solutions for some of the most pressing problems surrounding depression. It significantly improves the ability to visually concentrate on tasks, making it ideal for use with young children. Its sweet aroma is pleasant and appropriate for all settings.
Orange essential oil was consistently found in this rat study (14) to be helpful for treating anxiety and to have a tranquilizing, distressing effect. Diffusing sweet orange upon the family's return home sets the stage for calm, enjoyable evenings together.
12. Palmarosa Essential Oil
Palmarosa is a sweet-smelling grass in the lemongrass family. It has been proposed (15) as a potential natural source of MAO inhibitors without the harmful side effects of pharmaceuticals. It's one of the recommend ingredients in our sleep spray essential oil blends!
13. Peppermint Essential Oil
One of our favorite oils in the Z house! Peppermint essential oil tangibly energizes you when you are fatigued and lack motivation. It has been found to increase motivation, vigor, cortex stimulation, mood, relaxation, and alertness.
14. Rose Essential Oil
One of the most precious oils, rose essential oil is associated with subjects feeling more relaxed (16), comfortable, or natural. It protects the brains of depressed subjects from oxidative stress in rat studies (17).
Rose essential oil also relieves depression and feelings of distress. We often use it in our Heavenly Scent Essential Oil Spray as a homemade body spray or room freshening spray. Not only does this minimize the dangers of synthetic air fresheners, but you get to enjoy the benefits of this precious oil.
15. Rosemary Essential Oil
Rosemary essential oil is shown in this 2017 study (18), and this 2013 study (19) to have potential mental health benefits. These findings are in alignment with historic use of rosemary and accepted aromatherapy practices.
Rosemary essential oil is shown to exhibit antidepressant activity within two weeks when diffused for 30 minutes per day. Rosemary improves stress response, helps clinical depression, and protects the brain. It's a powerful essential oil for depression.
16. Sandalwood Essential Oil
Sandalwood essential oil demonstrates a powerful, grounding, antidepressant activity when inhaled or diffused. Some people find quality sandalwood essential oil to be cost prohibitive; however, it can be seen as a worthwhile investment in your long-term health.
It's well-established history of health benefits, and being a useful essential oil for depression, make adding sandalwood to your collection a wise decision. Use sandalwood for diffuser blends, body care recipes, and sleep support blends.
17. Vetiver Essential Oil
The effects of breathing diffused vetiver essential oil make it a start on the list of essential oils for depression. This study shows action in rats (20) similar to anti-anxiety drugs; however the harmful side effects wouldn't be there compared to traditional prescription drugs.
The scent is calming, grounding, and earthy—another good choice for young people who have trouble with focus or attention due to anxiety. At least one researcher claims (21) it is superior to other essential oils in reducing symptoms of ADHD. In fact we recommend it in the Focus and Calm Blend Essential Oils Roll-On for Kids!
18. Ylang Ylang Essential Oil
Ylang ylang essential oil has historically been used to balance the central nervous system and for mental relaxation. You could call it the queen of essential oils for depression. Ylang ylang works directly on brain chemicals to reduce anxiety and depression.
Modern researchers (22) have found it to be sedative and calming, to impart a harmonizing effect, and reduce symptoms of both anxiety and depression. Many people struggle with finding appropriate care when they experience symptoms of both anxiety and depression together; ylang ylang may be the answer.
Married couples who find their intimate time is negatively impacted by depression will be excited to hear that research confirms ylang ylang can help. Inhaling diffused ylang ylang essential oil can help improve positive feelings regarding sexuality in general. Additionally, ylang ylang is one of the most sought-after scents for perfumery, so men and women alike will appreciate adding it to their routine.
Now that the top essential oils for depression have been examined individually, let's look at a couple ways they can be used together to maximize their effectiveness. Many essential oils work synergistically and these are two blends you can pre-mix for addressing some of the symptoms you may be dealing with as you struggle with your depression.
These essential oils can be combined into a unique blend just for you. The amounts below should fill a 5ml amber glass bottle so you can have your own master blend to use with your favorite aromatherapy techniques!
Mood Lifting Essential Oils For Depression Blend
Ingredients
10 drops lemon essential oil
10 drops bergamot essential oil
15 drops ylang ylang essential oil
15 drops frankincense essential oil
20 drops lemon balm (Melissa) essential oil
30 drops lavender essential oil
Instructions
Combine the essential oils by rolling gently to combine. Amber bottles are best as they protect oils from ultraviolet light damage, and dropper inserts mean you can dispense your blend safely and accurately.
If brain fog, inattentiveness, or ADHD/ADD are a struggle for you, you might find this blend below very helpful. The oils should be the perfect amount to fill a 5ml glass bottle and create your own unique essential oil blend. Use it any time you find your depression causing you to lose track of what you are trying to do.
Help Me Focus Essential Oil For Depression Blend
Ingredients
10 drops neroli essential oil
10 drops rose geranium essential oil
15 drops bergamot essential oil
15 drops German chamomile essential oil
20 drops vetiver essential oil
30 drops sweet orange essential oil
5ml amber glass bottle with dropper insert
Instructions
Combine the essential oils in the 5ml glass bottle and roll gently to combine.
Depression has so many elements and symptoms can come in clusters. And it can make you feel isolated and alone sometimes. But you aren't alone – and there is hope!
These essential oils for depression can help you manage your symptoms naturally, when appropriate. And we are, as always, praying for you to experience the abundant life!