About Dr. Eric & Sabrina Ann Zielinski (aka Dr. Z and Mama Z)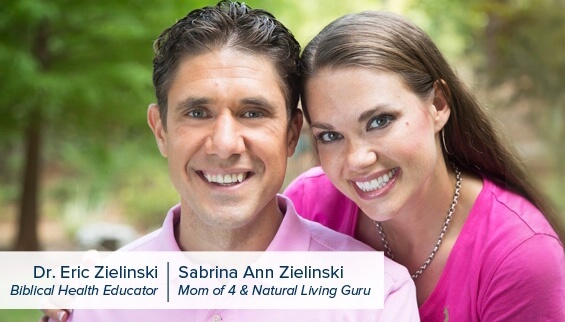 The author of the National Bestseller, The Healing Power of Essential Oils and founder of DrEricZ.com (now NaturalLivingFamily.com), Dr. Eric Zielinski has pioneered natural living and Biblical health education since 2003. Knowing what it's like to be sick from a young age and having recovered from several chronic diseases in his early 20s, he has been on a mission to share the evidence-based approach to natural living that empowered him to regain control of his health with the world. Trained as an aromatherapist, public health researcher and chiropractor, Dr. Z is an accomplished researcher with several publications and conference proceedings.
Sabrina Ann Zielinski is a home birth mom of four and a natural health guru. The mastermind behind the allergy-friendly food recipes & DIY remedies featured on their website, she's known as "Mama Z" to many mamas who are looking for natural ways to take care of their families. As a certified group fitness instructor, health coach and beauty pageant trainer Sabrina's vast background in natural living has helped her empower thousands of women to reach their true potential in Christ.
Authors of The Essential Oils Diet, Dr. Z & Mama Z started their online ministry in 2014 with DrEricZ.com to help people learn how to use natural remedies, like essential oils, safely and effectively. Now, with more 6 million visitors every year, it has rapidly become the #1 source for Biblical Health and non-branded essential oils education online. 
The Zs live in Atlanta with their four children.
Driving Passion
One thing I do know, that though I was blind, now I see.
~John 9:25
For as long as he can remember, Dr. Z has been burdened with the yearning desire to live a life of meaning. Growing up in the outskirts of Detroit, MI he often wondered how a truck driver's kid could do "great things" with his life without resources and influential people to support him. Plagued by addiction, depression, gut disorders, skin conditions, and utter hopelessness, Dr. Z's life was radically transformed in 2003 when he became a Christian. Immediately recognizing that healthy living was a spiritual act of worship, he started to change his eating and lifestyle habits. One by one, each health issue that haunted him from his youth started to fade away. For the first time in his life, he found purpose for living and started to share his story and research with everyone around him.
Approach
For no one can lay any foundation other than the one already laid, which is Jesus Christ.
I Corinthians 3:11
Dr. Z's approach to his work is multi-disciplinary, believing that no "one source" exists for people to use to solve all of life's challenges. His success can be attributed to good ol' fashioned hard work, long hours and seeking only after those endeavors that are God-breathed. As Dr. Z continues in his calling to help reshape peoples' lives toward their God-given destiny, he has been increasingly inspired to create partnerships with like-minded people who also want to be the change that they want to see in the world.
"God has laid for us the foundation in the Bible. It is now our responsibility to partner, build, and grow in the knowledge that this world needs to live the Abundant Life!"
Training
Everyone who competes in the games goes into strict training. They do it to get a crown that will not last, but we do it to get a crown that will last forever.
I Corinthians 9:25
For over a decade, Dr. Z has been formally trained as a natural health care provider, chiropractor and researcher with the intent to educate, inspire and challenge people to live their God-given potential. He was on the esteemed Research Track while earning his Doctor of Chiropractic degree at Life University, and is working on his aromatherapy certificate with the Atlantic Institute of Aromatherapy. Dr. Z is currently on sabbatical from completing the Master of Public Health program at Emory University.
Writer, Public Health Researcher & Speaker
Write down the revelation and make it plain on tablets so that a herald may run with it.
Habakkuk 2:2
Dr. Z's primary vehicles of communicating Abundant Life truths are his writings, research and speaking engagements. He has been Blessed with the gift of communicating complex concepts in a way that is simple and easy-to-digest. Inspired by the quote, "Instead of telling me what you believe, tell me why you believe it!" Dr. Z's goal is to create bullet-proof material that is backed up by the most accurate data available.
Curriculum Vitae
ERIC L. ZIELINSKI, DC
DrEricZ.com (2014 – Present)
Founder and CEO of DrEricZ.com, the Internet's largest source Biblical Health information with more than six million visitors each year.
Abundant Life Writing Solutions (2011—2015)
Abundant Life Writing Solutions is a content creation specializing in academic/technical writing, blogs, consulting, copy writing, editing, lead generation, recipes/cookbooks, SEO, strategy, white papers/special reports.
Abundant Life Coaching (2003 – 2015)
Abundant Life Coaching is Christian-based health & wellness coaching program designed to enhance the 7 pillars of Abundant Life: spiritual, physical, mental, emotional, financial, occupational and social.
EDUCATION
CERTIFICATIONS
CONFERENCE COMMITTEE BOARD
ONLINE CONFERENCE PRESENTATIONS
Essential Oils Revolution (2015)
The Evolution of Medicine Summit (2015)
The Holistic Oral Health Summit (2015)
The Truth About Cancer: A Global Quest Documentary (2015)
Heal Your Gut Summit (2016)
The Microbiome Medicine Summit (2016)
Total Wellness Summit (2016)
Chronic Lyme Disease Summit (2016)
The Truth About Fat Loss Summit (2016)
The Longevity and Anti-Aging Project (2016)
Fibro Fix Summit (2016)
Alzheimer's and Dementia Summit (2016)
Sleep Success Summit (2016)
Medicinal Supplement Summit (2016)
The Detox Project Autoimmune Revolution (2016)
The Diabetes Summit (2016)
That Vitamin Summit (2016)
The Essential Oils Revolution 2 (2016)
Betrayal Documentary (2016)
Beauty, Skin, and Gut Summit (2016)
The Thyroid Secret Documentary (2017)
That Vitamin Summit 2 (2017)
The Truth About Vaccines Documentary (2017)
Home Grown Food Summit (2017)
Healthy Child Summit (2017)
Sleep & Stress Summit (2017)
Bible Health Secrets Documentary (2017)
Adrenal Reset Summit (2017)
Live Longer and Feel Better Documentary (2017)
Heavy Metal Summit (2018)
The Truth About Pet Cancer (2018)
The Diabetes Summit Season 4 (2018)
The Chronic Disease Lyme Summit Season 3 (2018)
LIVE CONFERENCE PRESENTATIONS
Cancer Killers (2015)
The Truth About Cancer LIVE (2016)
The Truth About Cancer LIVE (2017)
ACADEMIC CONFERENCE PRESENTATIONS
International Research and Philosophy Symposium (Sherman College of Chiropractic)
Resolution of Trigeminal Neuralgia Following Subluxation Based Chiropractic Care: A Case Study & Review of the Literature (2011)
An Epidemiological Approach to the Effects Subluxation-Based Chiropractic Care Had in Managing a Three Year Old Girl with Autism, Acid Reflux, Bilateral Head Pain, Seizures, and Vomiting: A Case Study and Review of the Literature (2012)
An Epidemiological Approach to the Effects Subluxation-Based Chiropractic Care Has on Managing CVD Risk Factors: A Case Study and Review of the Literature (2012)
American Public Health Association Annual Meeting (San Francisco, CA)
Effects of Subluxation-Based Chiropractic Care on Dyslipidemia: A Case Study and Review of the Literature (2012)
Baker IDI Psychogenic and Cardiovascular Conference (Prato, Italy)
The Effects of Subluxation-Based Chiropractic Care on Dyslipidemia (2012)
Society for Epidemiological Research 2nd Student Web Meeting
An Epidemiological Approach to the Effects Subluxation-Based Chiropractic Care Has on Managing CVD Risk Factors: A Case Study and Review of the Literature (2012)
LECTURES: CONTINUING EDUCATION COURSES
KR Jones Forum – South Carolina Chiropractic Association (March 2014)
Chiropractic Today Through the Lens of Public Health (2 Hours)
Texas Chiropractic Association 2014 Conference (June 2014) Chiropractic Research Today, Yesterday & Tomorrow (2 Hours)
Subluxation Adaptability Symposium 2014 – Chicago (Sept 2014) o Research Update (1 Hour)
International Research and Philosophy Symposium – Sherman College of Chiropractic (Oct 2014)
How to Write a Case Study Workshop (2 Hours)
LECTURES: ACADEMIC
A Critical Analysis of Georgia Senate Bill 261: Chiropractors; Revise the Definition of the Practice of Chiropractic (Sherman College of Chiropractic, Nov 2013)
Can Chiropractic Save Clinical Research? (Sherman College of Chiropractic, Nov 2013)
Vertebral Subluxation Research: An Agenda to Explore the Epidemiology of Vertebral Subluxationand the Clinical Outcomes Related to Management (Sherman College, Nov 2013)
Chiropractic Research Today, Yesterday & Tomorrow (EPOC Indiana, June 2014)
Chiropractic Research Today, Yesterday & Tomorrow (UC Berkley, Oct 2014)
Chiropractic Research Today, Yesterday & Tomorrow (Life Chiropractic College West, Oct 2014)
PEER REVIEW PUBLICATIONS
PEER REVIEWER