Kale is a fantastic superfood with lots of deep earthy flavor. My Colorful Kale Quinoa Salad With Vegan Greek Dressing is a great way to incorporate this leafy green into your diet. This recipe has a special place in my heart. When I was on bedrest, several ladies brought me meals along with the recipe so I could make it again. This salad was one of the meals brought, and I absolutely loved it! Thankfully, my family feels the same way.
This salad is the perfect mix of sweet and savory, and it even includes essential oils for a bioactive boost! Plus, the combination of bright vegetables is pleasing to the eye. The more colorful your plate is, the better!
Kale: A Cruciferous Superfood
Kale was a buzzword for a while, with people blending it into smoothies, creating amazing salads, and even crisping it into a healthy chip alternative. Kale deserves every bit of the spotlight! Here's why.
Cruciferous vegetables are better for your body than any other vegetable out there. They're low in calories and high in nutrients! Every veggie in this group is part of the cabbage family (1).
The flavor of cruciferous vegetables is often slightly bitter, and you can identify them by their cross-shaped flowers with four petals.
The bitter notes in these vegetables come from a phytonutrient that contains sulfur. This same phytonutrient gives them anti-cancer properties activated when the vegetable is chopped or chewed (2). 
God has a creative mind! Just 2 to 3 servings of cruciferous vegetables a week can lower your risk of cancer. When consuming kale, it's essential to purchase an organic variety.
What we put into our bodies matters! Kale is on the EWG's "Dirty Dozen" list, which means non-organic kinds have been tainted with pesticides (3).
According to research, over 92% of kale samples showed 2 or more pesticides (4). These pesticides are horrible for the environment and the human body.
Adverse reactions to pesticides include nausea, rashes, and stinging eyes. Over time they can evolve into cancer and severe disruption of the reproductive system (5).
While organic kale can cost a few cents more, it's worth it to evade harmful toxins.
Healthy Salad Ingredients 101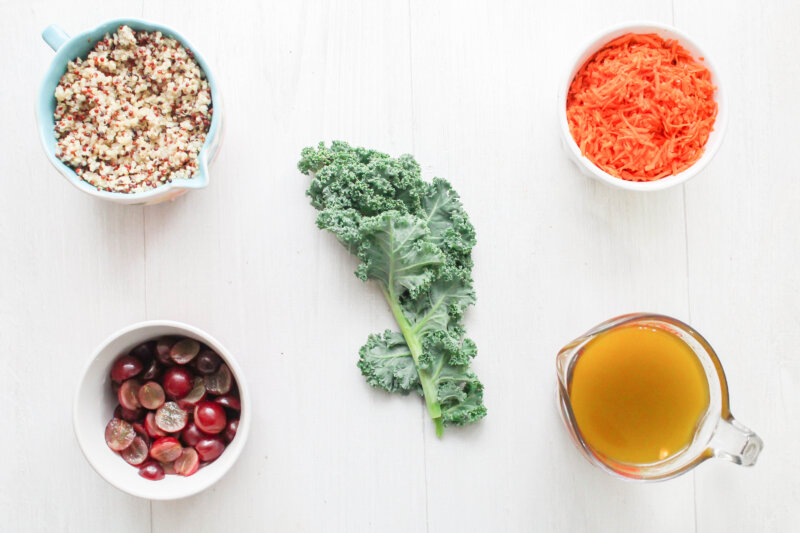 Quinoa: I love adding quinoa to salads because it gives them a unique texture. Healthy grains are crucial to our diet because they boost metabolism and increase serotonin levels (6). Quinoa is a high-glycemic food that can keep you feeling full, which causes you to snack less (7). 
I love using tri-colored quinoa because it makes the salad extra unique. When cooking quinoa, you have a few options. You can cook it in vegetable broth (Pacific Foods is my favorite brand!), coconut milk, or coconut water. These slight variations make for a more flavorful, creamier quinoa.
If you don't have quinoa on hand, you can use brown rice. Pro Tip: Salads are a delicious way to use last night's leftovers!
Organic Grapes: Grapes add a delightful pop of color to this dish. They're full of vitamin C, which can help boost the immune system. Cut them in half for easy eating and to make this salad family-friendly. New studies show that eating grapes can help improve your cognitive function (8).
Kale: In addition to the benefits we've already mentioned, kale can lower your risk of cardiovascular disease due to its vast amounts of antioxidants and nutrients (9). To avoid most bitterness, you can discard the stems and spines. Throw the remnants in your compost bin!
Raisins: Raisins add little pops of sweetness to this salad. We love raisins as they're a cost-effective, delicious snack! Raisins are nature's candy, and they contain many health benefits. Consuming raisins can improve your overall oral health thanks to their antimicrobial compounds (10).
You can also use unsweetened dried cherries or currants.
Cabbage: Cabbage is another cruciferous vegetable full of antioxidants (11). Antioxidants are essential because they protect your body from free radicals. Free radicals can damage your body's cells, so it's vital to eat foods that counteract these attacks! You can use either red or green cabbage.
Chickpeas: Chickpeas are a fantastic source of protein that contains a lot of amino acids. Amino acids play a huge role in your metabolism and immune system function (12). They add a protein boost to this salad, which keeps you lean and strong!
Shredded Vegetables: Additional vegetables add a lovely flavor to your salad. Bright beets and carrots have gotten many a picky child to enjoy salads! Some of our favorite veggies to include are shredded carrots, beets, zucchini, or a combination.
Walnuts: Most of my salads include nuts because they give a much-needed bit of crunch! Walnuts are full of healthy fats, and they can help fight inflammation (13). If you don't have walnuts on hand, you can use chopped pecans.
Vegan Greek Dressing: This dressing is a family favorite. It's packed with delicious olive oil, herbs, essential oils, and a hint of sweetness. It blends well with kale and makes the salad extra special.
It's fantastic on Meditteranean-inspired dishes, but it works on most salads. We even like using it as a marinade for veggie kabobs!
Make Colorful Kale Quinoa Salad
This salad comes together in minutes. Using pre-shredded vegetables and already chopped nuts makes prep work a breeze! This salad is great for busy nights because you can make it ahead of time, chill it for an hour, then serve. Bon appetite!

Colorful Kale Quinoa Salad With Vegan Greek Dressing
Ingredients
1 cup organic quinoa or brown rice, cooked and cooled
½ cup raisins
½ cup organic green or red grapes, halved lengthwise
6 cups (8 ounces) organic shredded kale, measured after stems and spines are removed
1 (15.5-ounce) can organic chickpeas, black beans, or lentils, rinsed and drained
1 cup organic shredded carrots, beets, or zucchini, or a combination
½ cup organic shredded red or green cabbage
1 cup Vegan Greek Dressing
Supplies:
Large mixing bowl with cover
Instructions
In a large bowl (preferably one with a lid or cover), mix the quinoa, raisins, grapes, shredded kale, chickpeas, carrots, cabbage, and walnuts, if using.
Pour the cup of dressing over the salad. If the bowl has a lid, cover the bowl, shake the salad thoroughly, then transfer it to a serving bowl.
Alternatively, toss the salad and serve.
Vegan Greek Dressing
Vegan Greek Dressing
Instructions
In a glass jar with a tight-fitting lid, combine the cider vinegar, both olive oils, coconut sugar, sea salt, garlic, lemon juice, herbes de Provence, mustard, red pepper flakes, white pepper, and the essential oils.
Tighten the lid, making sure it is secure, and shake vigorously. Use the dressing immediately and refrigerate any leftovers.
It can also be used as a marinade, but do not then use it as a dressing on the completed dish.
Step One: Mix the Salad Ingredients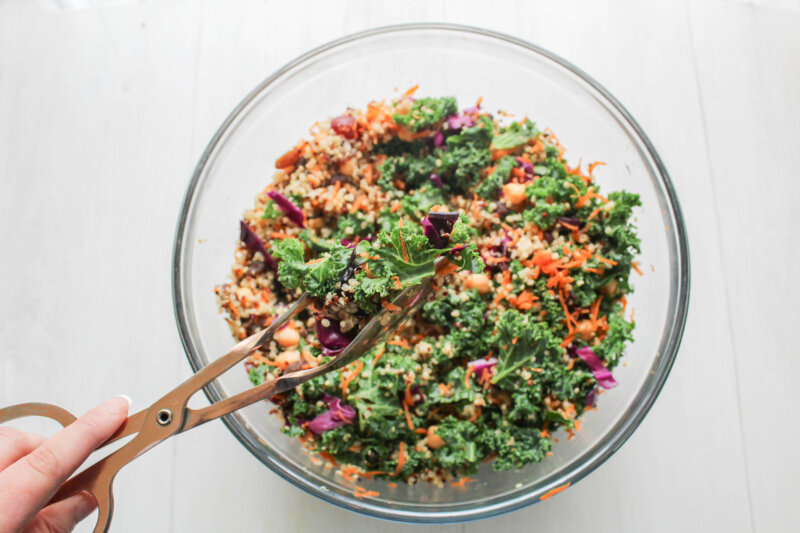 In a large bowl, mix the grains, raisins, grapes, shredded kale, chickpeas, carrots, cabbage, and walnuts. I prefer using a bowl with a cover, making the next step a cinch.
Step Two: Add the Dressing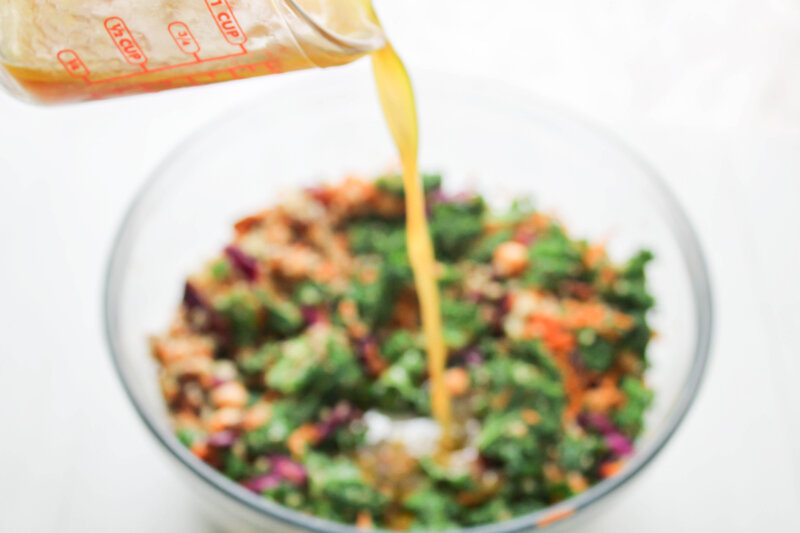 Pour the dressing over the kale quinoa salad. If your bowl has a lid, cover the bowl and shake the salad. This ensures every bite is filled with delicious dressing! If you don't have a cover, toss the salad well and serve.
Want More Cruciferous Veggies?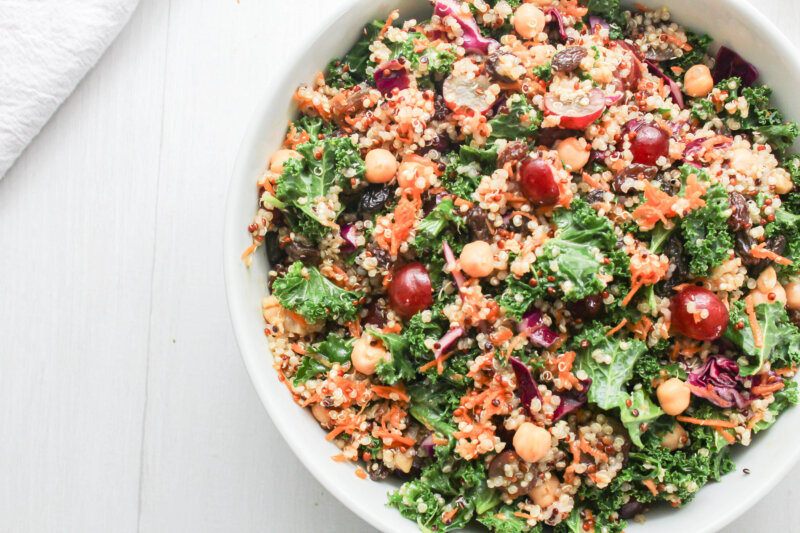 If you want to include more cruciferous veggies in your diet, I recommend trying my homemade vegan coleslaw. It's packed full of healthy vegetables and is dairy-free! You'll love the unique ingredients, such as apples and essential oils! This side dish is always a hit when I bring it to gatherings.
If you'd like to try fermenting, my homemade kimchi is delicious and excellent for your gut health. Many people love including a little taste of fermented foods in every meal to help digestion. I love having kimchi with eggs, but it's a fantastic addition to salads or even on its own. Bonus: The spiciness helps rev your metabolism!