Choose from a garlic version that's exactly what you'd expect from hummus, a sun-dried tomato variation that's bright and cheery, and a southwestern version perfect for any taco night. Whatever option you decide to go with, you're sure to love it!
The Mighty Chickpea
With all the other tasty ingredients in homemade hummus, it's hard to remember that the main ingredient is garbanzo beans, also known as chickpeas. Chickpeas are a fantastic source of protein, and they're one of the most widely consumed legumes worldwide.
You'll find them tossed into soup, roasted into a crunchy snack, used in one of our delicious salads, or blended into hummus. Chickpeas add a fantastic Meditteranean flavor to any recipe, but they're also full of incredible health benefits.
Chickpeas contain insoluble fiber and protein (1). Both of those components work together to regulate and, in some cases, slow your digestive process. This helps you feel fuller longer. For most people, that's enough to lessen the urge to overeat.
Studies show that participants who ate chickpeas reported eating less junk food (2). That is such a healthy win!
Chickpeas can also help control your blood sugar levels. This is because chickpeas are low-glycemic legumes that keep your blood sugar stable (3). This is especially helpful if you struggle to keep your diabetes under control. Stable blood sugar means fewer energy spikes. No afternoon slump here!
Homemade Hummus Ingredients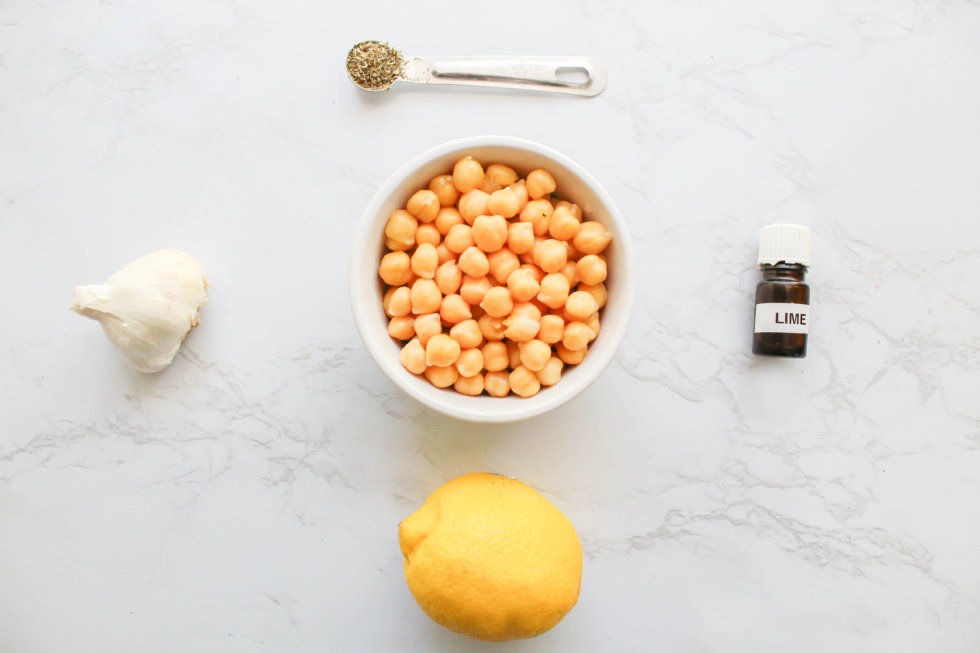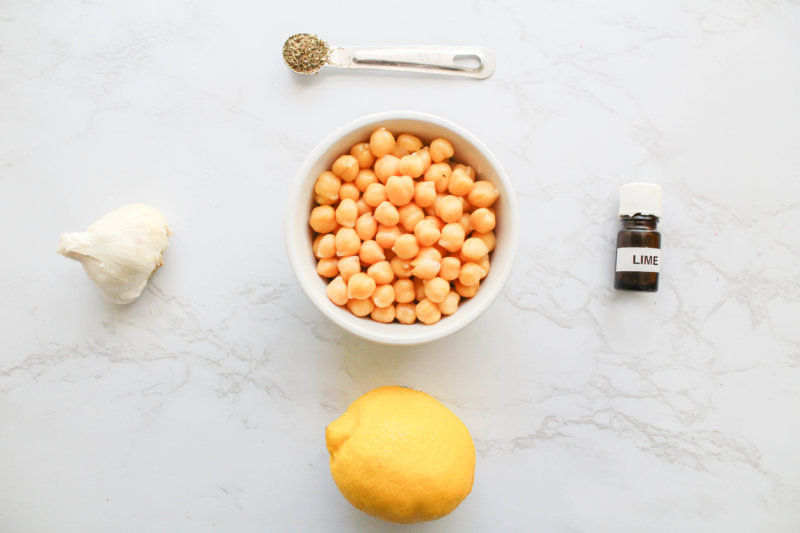 Garlic Cloves: You can't have hummus without fresh garlic! I'm sure you've heard your grandparents tout a remedy or two! It turns out that those who've gone before us are onto something! For centuries, garlic has been used for its medicinal properties. For example, garlic can help reduce cold symptoms (4).
Sea Salt: Regular table salt is stripped of its beneficial nutrients. We prefer using Colima sea salt because the harvesting process is minimal, and all the good stuff is intact.
Chickpeas: When blended with tasty tahini, tart lemon, and rich olive oil, chickpeas shine! They create such a creamy base for our hummus. We keep it simple in this recipe by using canned legumes.
Tahini: Every Meditteranean dish needs a little tahini! This spread is made by grinding sesame seeds into a nut butter spread. Sesame seeds have antibacterial properties and can help your body fight infections (5).
Lemon Juice: Fresh lemon juice is the key to great hummus! Lemons are full of vitamin C, which can help reduce your risk of coronary disease (6).
Mama Z Pro Tip: For easier recipe prep, keep freshly squeezed lemon and lime juice in your fridge at all times. 
Sweetener: A hint of sweetness balances out the citrus notes in this dip. Raw honey tastes delicious and is true to traditional Meditteranean hummus. Use liquid stevia if you're on the Fast Track in our Essential Oils Diet plan. Liquid stevia blends into dips well and has no aftertaste.
Purified Water: Tap water contains toxins that contribute to diabetes, obesity, and congenital disabilities. To combat this issue, we recommend using distilled or purified water.
Olive Oil: Smooth-tasting olive oil creates the creamiest hummus! In this recipe, we blend olive oil into the hummus and pour some on top.
Pouring olive oil on top keeps the hummus fresh and looking its best. Stick with extra virgin olive oil as it contains the most health benefits.
Essential Oils: We use lemon or lime essential oil to amp up the citrus flavor in this recipe. Both of these essential oils are full of d-limonene, a compound that can help boost your immune system, among other things (7).
Safety note: It is safe to use essential oils in this recipe since certain ingredients are dispersants. In this recipe, olive oil ensures that our EOs are distributed evenly. This means your mouth won't get irritated. You never want to ingest any essential oil without a dispersant!
Herbes de Provence: Herbes de Provence is a beautiful blend of dried basil, thyme, rosemary, oregano, and tarragon. Sometimes, you'll find fancy brands that include herbs such as lavender. I love using this blend of herbs because it provides fantastic flavor.
If you don't have this spice blend on hand, you can use Italian seasoning, chopped fresh rosemary, or dried rosemary.
How to Make Mama Z's Healthy Hummus
This recipe comes together in just 15 minutes, and you'll have enough hummus to serve 8 people generously. I know you'll love it as much as we do!

Mama Z's Homemade Hummus
Instructions
Place the garlic, sea salt, chickpeas, tahini, lemon juice, honey, purified water, 2 tablespoons of the olive oils, and the essential oil (lemon or lime) in the bowl of a food processor or blender.
Process until smooth.
Spoon into a serving dish. Top with the herbes de Provence and drizzle with the remaining 2 tablespoons olive oil.
Serve as a dip with fresh vegetables and grain-free or almond-flour chips.
Alternatively, place the dip in a 16-ounce airtight container and refrigerate for up to one week, or freeze for a month.
Step One: Blend the Ingredients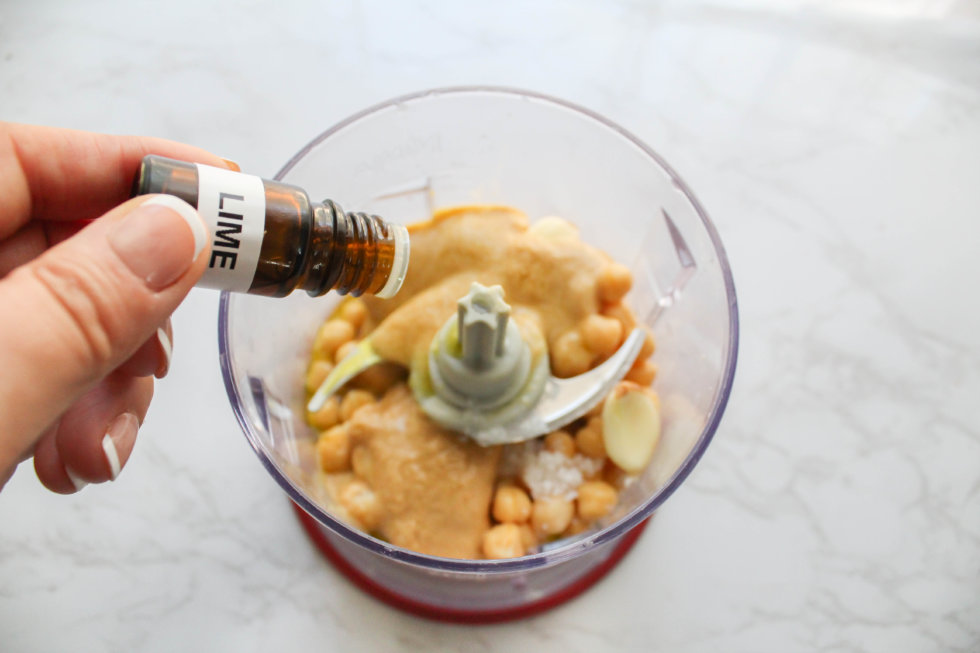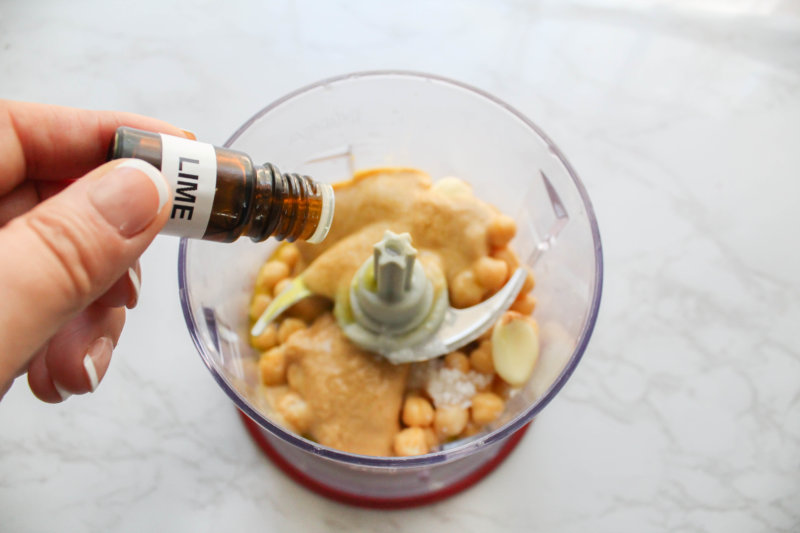 Place the garlic, sea salt, chickpeas, tahini, lemon juice, honey, purified water, 2 tablespoons of olive oil, and the essential oil of choice in a food processor or blender bowl. Process the ingredients until nice and smooth.
Step Two: Garnish the Homemade Hummus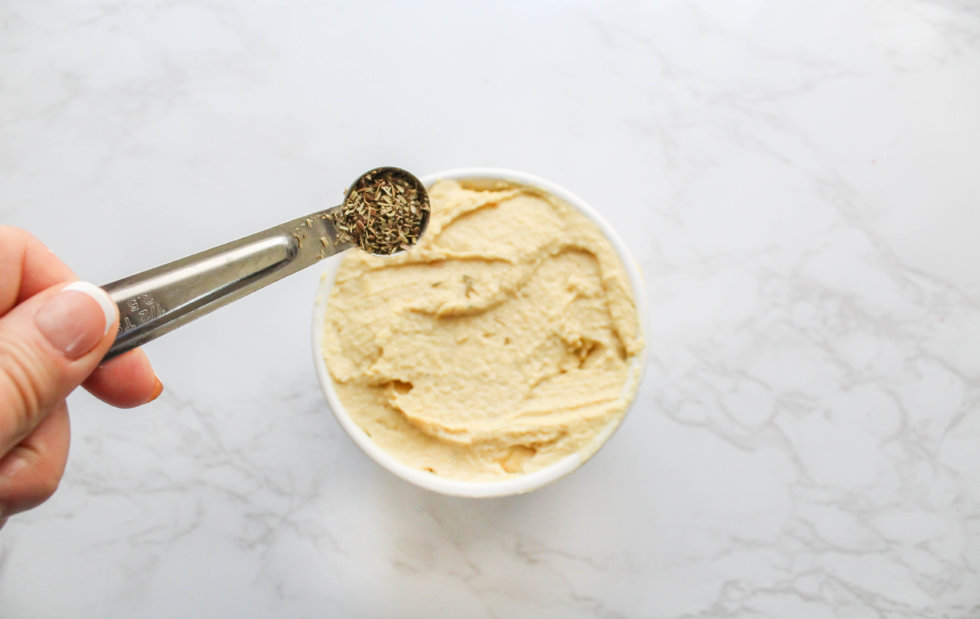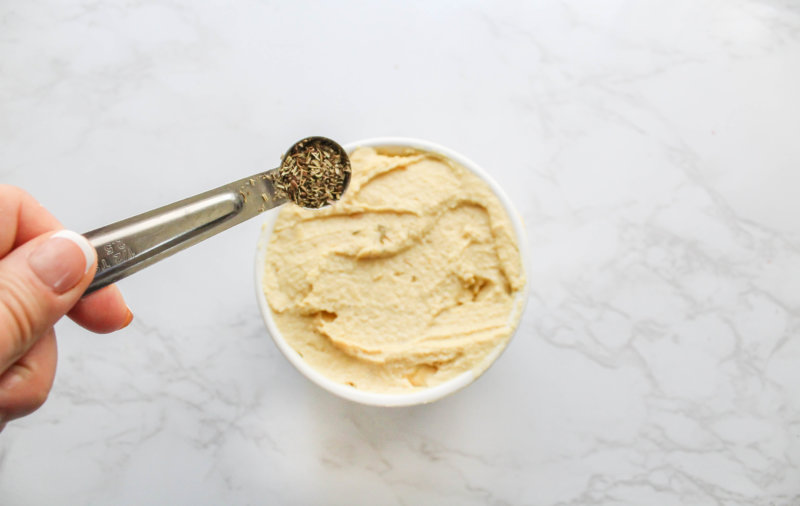 Spoon your hummus into a serving dish. Top with the herbes de Provence and drizzle with the two remaining tablespoons of olive oil.
Serve as a dip with crisp, fresh vegetables and grain-free chips or crackers! You can place the dip in an airtight container and refrigerate for 1 week or freeze it for a month. Enjoy!
Tasty Homemade Hummus Variations
If you're feeling adventurous, try one of my hummus variations! They're just as easy to make as the original recipe and are just as delicious.
Mama Z's Sun-Dried Tomato Hummus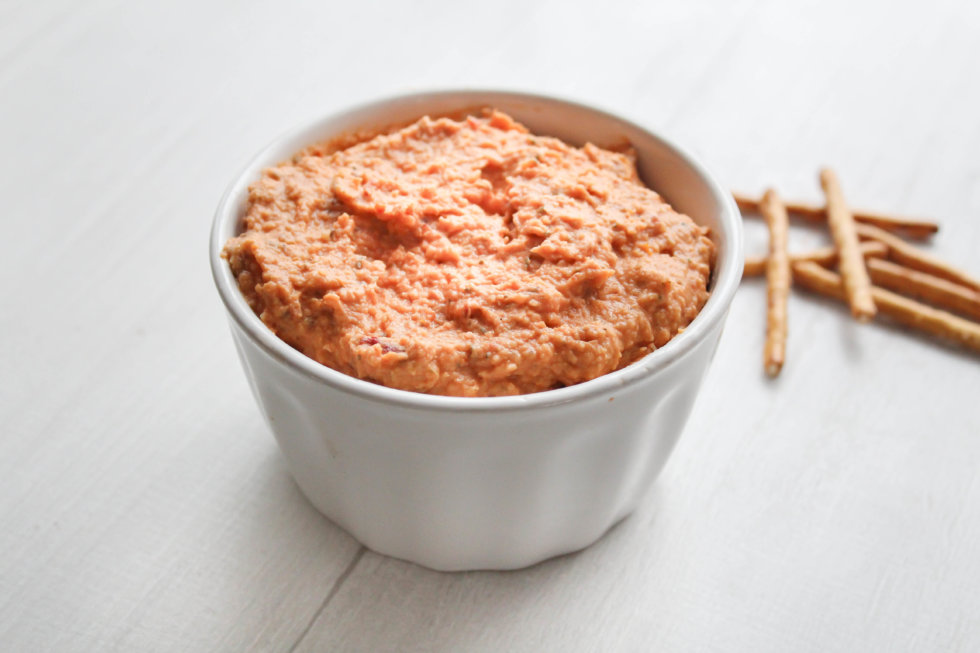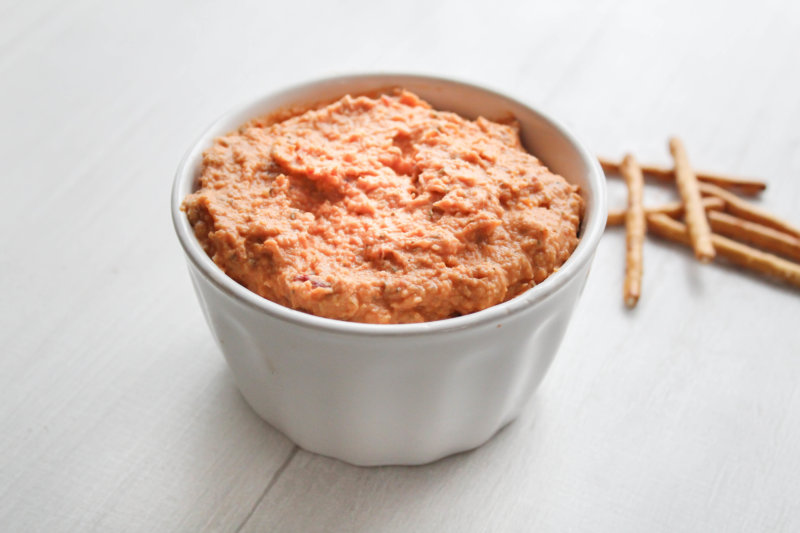 To make a delectable sun-dried tomato hummus, follow the recipe above, but add ½ cup drained organic oil-packed sun-dried tomatoes to the other ingredients before blending. I love the gorgeous, bright color that this variation brings to the table!
Mama Z's Southwestern Hummus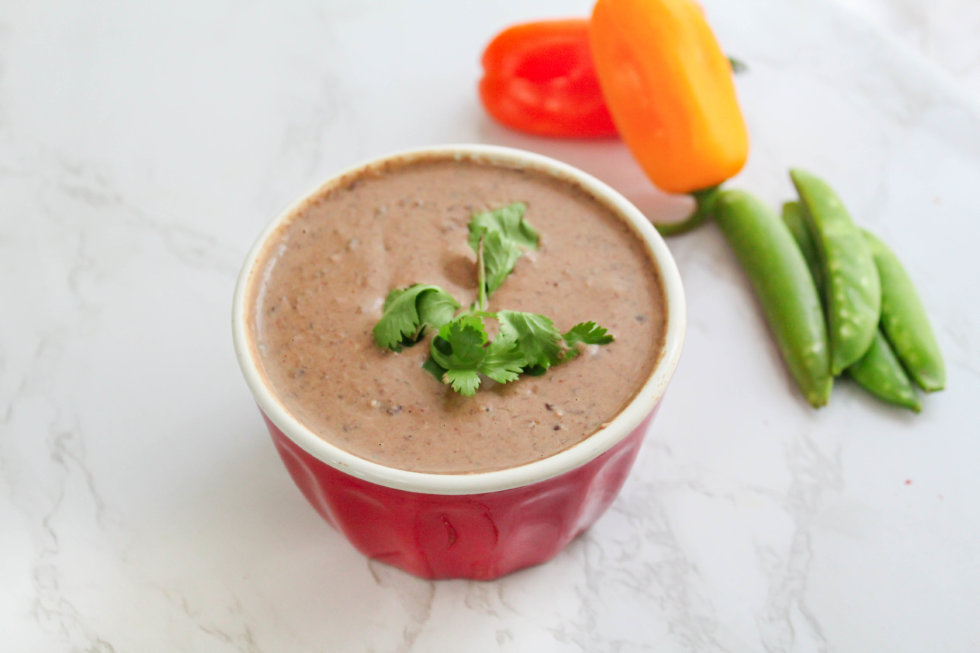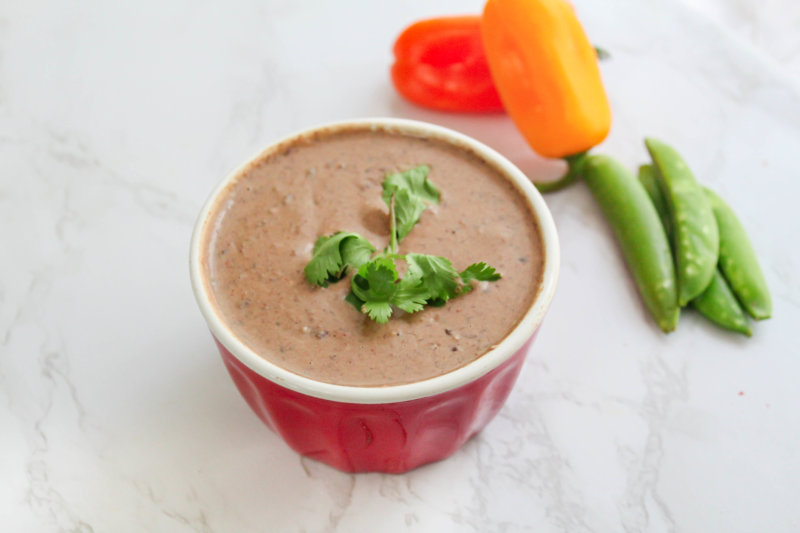 Liven up taco night with my delicious Southwest-style hummus.
To make it, simply follow the recipe above, but use organic black beans in place of chickpeas and 1 teaspoon organic chili seasoning instead of the herbes de Provence. Add 1 or 2 drops each of cumin and cilantro essential oils along with the lemon essential oil. Enjoy!