We have put together some of our favorite blends to create this list of essential oils for kids rollerball remedies. You can create each of these recipes to aid in daily care.  From helping your child get a good night's sleep to stopping a bug bite from itching, these remedies for using essential oils on children are sure to be a staple in your home.
Essential Oils for Kids Rollerball Remedies
As a rule of thumb, only use highly diluted essential oils for children. According to the National Association for Holistic Aromatherapy,
For infants and young children: 0.5 – 1.0% dilution = 3-6 drops of essential oil per ounce of carrier
This printable chart that I offer Dr. Z's Essential Oils Club Inner Circle Members is SUPER handy!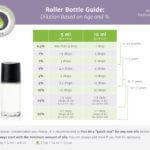 In my opinion, a 2% dilution is safe for children 5 years and older for most oils and blends. Always consult with your natural health care provider to confirm – especially if your children are on medications to make sure there are no contraindications.
Some of the essential oils for kids rollerball remedies below are perfect for everyday use, whereas the others are nice to keep on hand for the occasional issue of using essential oils on children.  Our Breathe Easy blend is nice to have during cold season or when dealing with allergies.  The Calm and Focus blend is helpful during homework time or before heading off to school.
Note of caution from Dr. Z: there are reports claiming that the chemical menthol can negatively affected young children. Because there is menthol in peppermint and other other essential oils, some people recommend against using certain oils on or around children under 5, 7 or 10 years of age. There is no consistency here, and age recommendations are quite varied.
It is important to remember that there is virtually no research about how essential oils for kids affect children to confirm these recommendations. It is interesting to note that most authorities give Vicks Vapor Rub the thumbs up for 2+ years, and menthol is a key ingredient. Does this mean that menthol-containing oils are safe for 2+? We're really not sure. We feel comfortable using it with our kids but some children may have a negative reaction so use caution introducing it to them if you have any concerns.
Unfortunately, the manner in which menthol interacts with the other chemicals in essential oils is NOT fully understood, so being cautious is wise. With that said, we have used peppermint around our children (all are 7 or younger) and have no negative effects to report. This is not an authoritative statement, just food for thought regarding using essential oils on children.
See below for these special blends perfect for essential oils for kids!
Sleep Time Roll-On
Roll Away the Itch
Breathe Easy Roll-On Blend
Focus and Calm Blend Roll-On
Anxiety Blend Roll-On
See more tips for
keeping kids healthy
here!
Become a Natural Living Guru! To enjoy an abundant (healthy) life, we have found that living a life free of harmful chemicals is crucial for physical, mental, emotional and especially spiritual wellbeing. However, most people don't know where to start. So, to help you on your journey, we have created a 5-Part Video Home Tour that shows you exactly how we have detoxed our home (and life!). As part of our Natural Living Family, we want to give you an opportunity to watch it for FREE! All you need to do is reserve your spot by clicking HERE. We'll see you there!