Need a quick snack? Try Mama Z's Homemade Guacamole! This dip includes lots of crisp, healthy vegetables and a flavorful blend of spices.
Dairy-free connoisseurs, rejoice! This guacamole contains no dairy but is so creamy people swear it does. My authentic guacamole is the perfect addition to any gathering. Your guests will feel like they're in Mexico with every bite.
Healthy Guacamole Ingredients
Many types of store-bought guacamole contain dairy and fillers to get a good texture. You might be surprised to know that my guacamole doesn't use either of those things. In this post, I'll show you how to make guacamole that could rival any restaurant's version. The best part is that it comes together in minutes.
This authentic guacamole recipe uses whole food ingredients like lime, avocado, tomato, onion, garlic, and cilantro. These items are not only true to the original Latin recipe but chosen carefully because of their nutritional benefits. You can find them in most grocery stores.
And my secret ingredient?
Essential oils!
Who said you need fancy ingredients to eat healthily? Let's find out what makes these elements so great!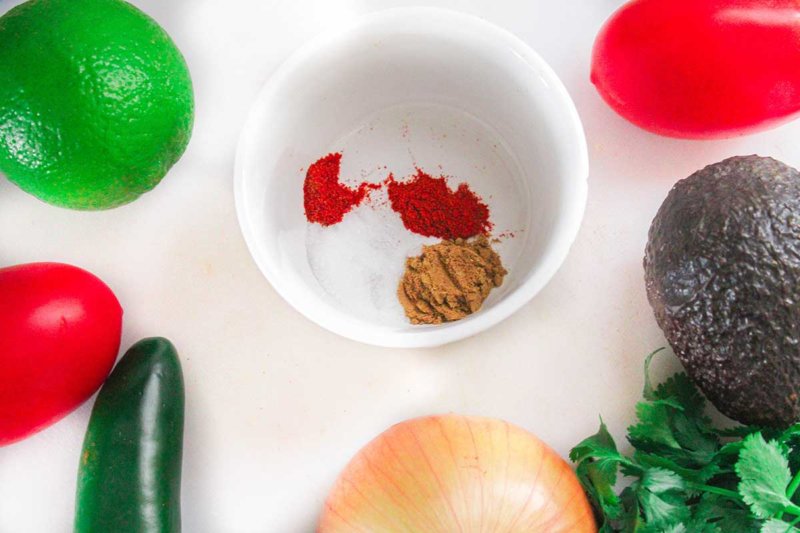 Avocado: Did you know that avocados are a fruit? They're classified as a single seed berry! Even stranger, avocados and cinnamon are in the same family tree. Avocados are full of healthy fats. We use them in several of our recipes to add creaminess without compromising nutrition. Eating avocados can help clear your skin and balance your hormones. Want to learn more? Check out this post. 
Lime Juice: Lime juice is what adds essential acidity to this recipe. Without lime juice, you'd feel like the formula is missing something! Limes are high in Vitamin C and antioxidants. They may help boost immunity and assist with digestion. To get the full benefits that lime has to offer, I recommend using fresh juice.
Pink Himalayan Salt: Why use pink salt? Pink Himalayan salt doesn't go through the rigorous processing that table salt does. Himalayan salt is full of minerals and is, in many ways, left in its original state. Salt can come with a bad reputation, but it plays a vital part in helping your body function. If you're consuming the right salt, your body will thrive.
Onion: Onions are antibacterial and can help your body kill harmful germs. People have used them as a natural sickness remedy for years! I'm sure you've heard of people putting them on their feet. Eating your onions can be a lot more fun than just putting one in your sock, especially when you devour them in a tasty recipe!
Jalapeno Pepper: This ingredient contains something called carotene, which is an antioxidant. Jalapeno peppers can boost metabolism and help curb blood sugar spikes. Plus, every good Latin recipe needs a little bit of spice! Be sure to use gloves when handling jalapeno peppers. I recommend removing the seeds to eliminate most of the heat.
Roma Tomatoes: Tomatoes give your body a large dose of potassium, which is excellent for heart-health. They contain anti-inflammatory properties, so your body can repair itself faster. I recommend using Roma tomatoes because they have fewer seeds, and you get more "meat."
Garlic: Raw garlic is a superfood! Hippocrates prescribed it to cure most ailments back in the day. While I don't recommend it as a fix-all ingredient, it's still one to include in your diet. Garlic can help your immune system, so if you're feeling off, add an extra clove to this recipe!
Essential Oils: Yes, you can consume essential oils. In fact, cooking with essential oils is one of the safest ways to enjoy what is referred to as "culinary doses." The key is to mix the EOs with a fatty substance (in this case, avocados), which help disperse and dilute the essential oil throughout the recipe. Not to mention the flavor! Wow, if you've never had guacamole without lime and cilantro essential oil, just wait for a treat!
How to Make "Mama Z's Homemade Guacamole"
Mama Z's Homemade Guacamole
Ingredients
Three Haas avocados, halved, seeded, and peeled
One lime, juiced
½ teaspoon pink Himalayan salt
½ teaspoon ground cumin
¼ teaspoon cayenne pepper
½ teaspoon smoked paprika
½ medium onion, diced
½ jalapeno pepper, seeded and minced
Two Roma tomatoes, seeded and diced
One tablespoon chopped cilantro
One clove garlic, minced
Coriander essential oil (optional)
Lime essential oil (optional)
Instructions
Prepare your avocados by cutting them in half and removing the seed, skin, and pit.
Next, chop the vegetables and herbs.
Then, juice your lime.
In a large bowl or Cuisinart food processor/Blender - place the scooped avocado pulp, lime juice, cayenne, cumin, smoked paprika, salt, and optional lime essential oil.
Mash with a potato masher or pulse with the Cuisinart Food Processor/Blender until smooth.
Then, remove from the blender jar and place in a large bowl.
Add the onions, jalapeno, tomatoes, cilantro, garlic, and optional coriander oil. Stir until well-combined.
Add additional lime essential oil if desired to taste.
Let sit at room temperature for 1 hour and then serve.
Making homemade guacamole is easy! In just minutes, you'll have an impressive snack. Here's how to make it.
Step 1: Prepare Your Avocados for Guacamole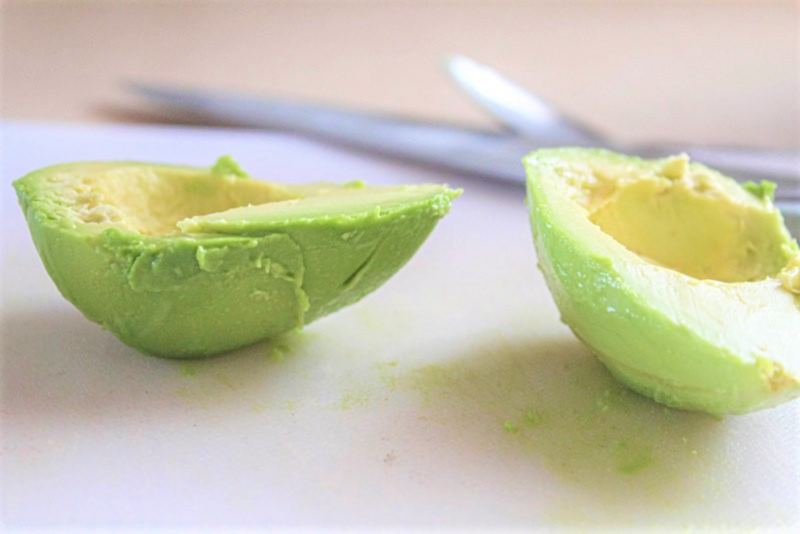 First, prepare your avocados. For best results, use three ripe avocados.
When on the hunt for the best avocados, you'll want to look for a few things. A ripe avocado usually has darker-colored skin. Don't look for the prettiest avocado in the store!  Like most produce, you can tell if it's ripe by doing the "push" test. You're looking for an avocado that feels slightly soft but not mushy.
Prepping your avocados is easy. Simply cut them in half, peel the skin, and remove the pit. Don't worry about perfection; they're going to be blended anyway.
Step 2 – Prep the Veggies You Want in Your Guacamole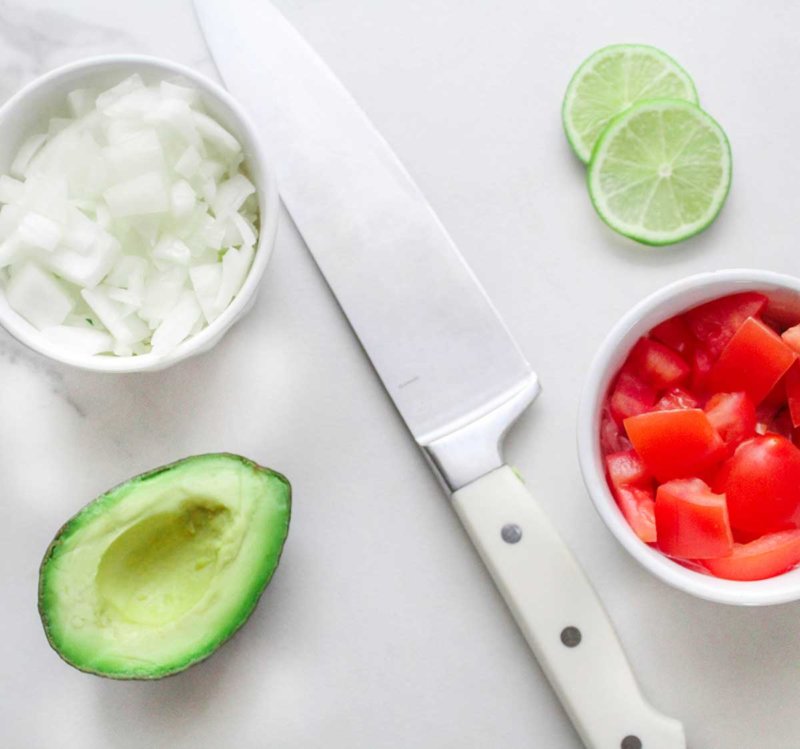 Next, chop the onion, garlic, tomatoes, jalapeno, and cilantro. Keep in mind that you will not blend these ingredients, so make them bite-sized. I recommend chopping the onion, garlic, and jalapeno smaller than the tomato, so you don't get a mouthful of heat!
To easily chop cilantro, take the herbs off the stem, wash, spin, and pulse them in the food processor. To measure your fresh herbs, press them into a glass measuring cup. Pressing the herbs removes any air and ensures you get the correct measurement. You can purchase measuring cups ranging from teaspoons to cups!
Step 3: Juice Your Limes or Lemons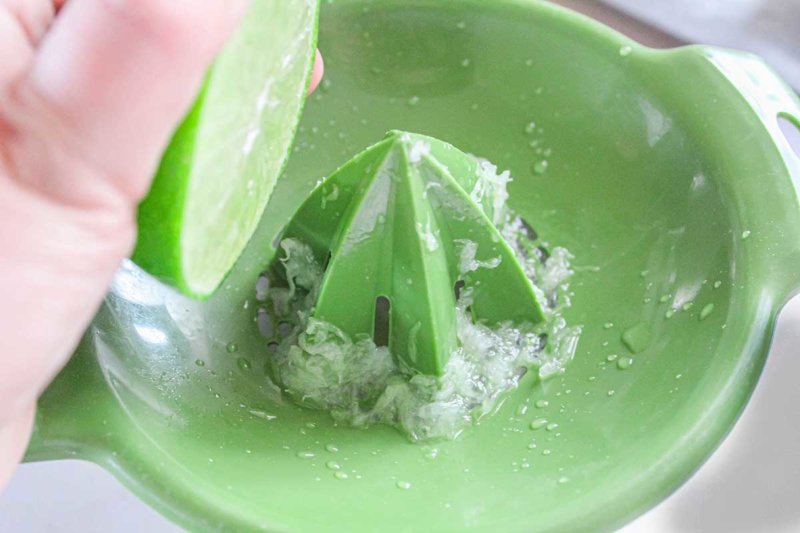 Then, juice your lime. I prefer using a simple handheld juicer like the one pictured.
Step 4: Mix the Guacamole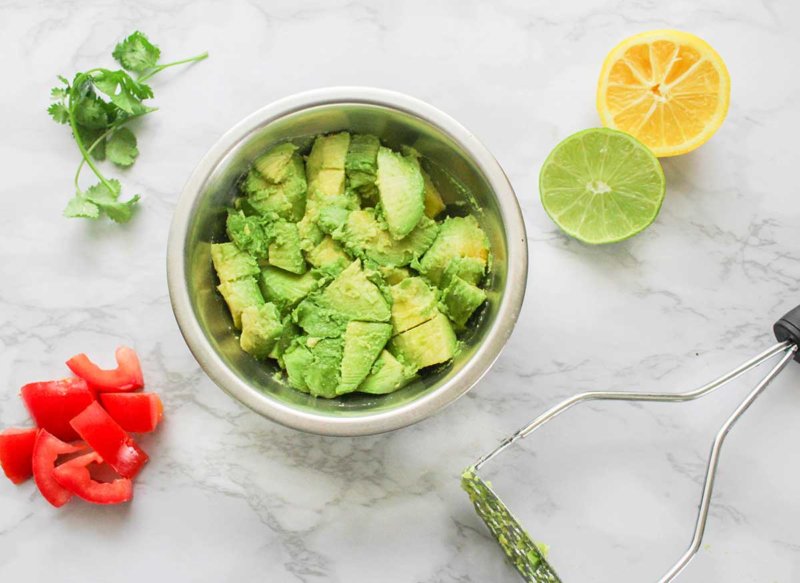 If you're using a blender, place your avocado halves, lime juice, salt, cumin, smoked paprika, and cayenne in the blender jar. Blend until smooth. 
Note: If you don't have a blender, place the avocados in a large bowl and mash with a potato masher until in small chunks. Add the lime juice and spices. Then, stir until combined.
Step 5: Serve and Enjoy!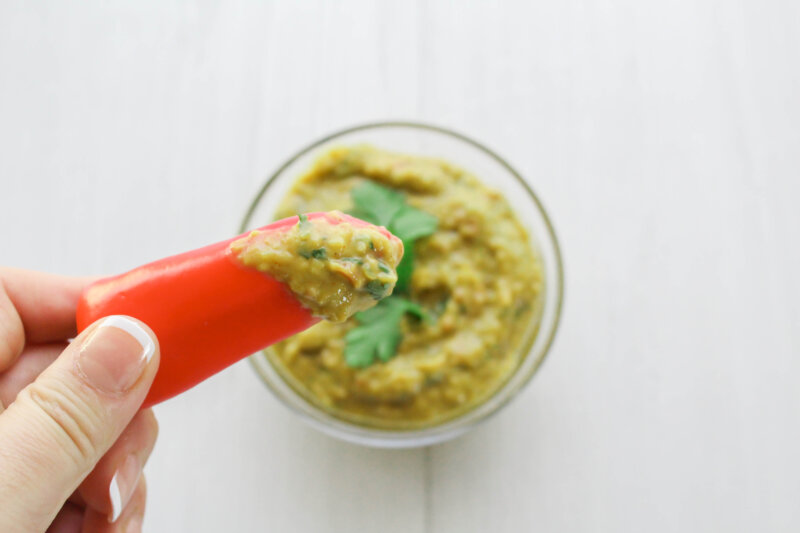 Empty the avocado mixture into a bowl and add the tomatoes, onion, garlic, cilantro, and jalapeno. Your guacamole should look similar to the above photo. If you're feeling fancy, you can garnish your bowl with additional cilantro. Let the guacamole sit for an hour at room temperature, then serve!
Serving and Storing Homemade Guacamole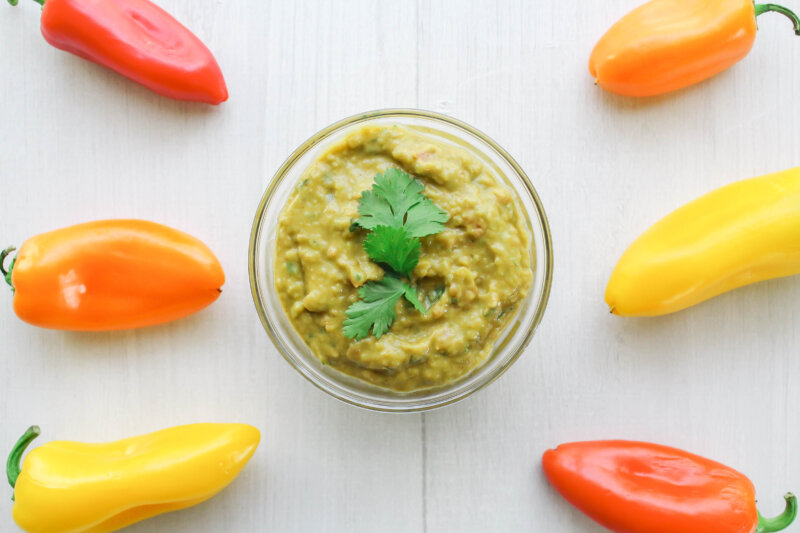 Every great dip needs a dipper! That's part of what makes a recipe like this so fun.
Pro tip: Kids are more likely to eat vegetables if you serve them with a dip!
My favorite dipper is mini bell peppers. They are sweet, colorful, and crunchy. My family also loves to dip carrots, celery, cucumbers, broccoli, cauliflower, and snap peas. Other great options include gluten-free tortilla chips or pita bread.
You can store guacamole leftovers in the refrigerator for 3-5 days. It may look brown, but the flavor will still be on par. Adding lime juice, as we did in this recipe, helps slow the oxidation process. Many guacamole fans say that adding a one-inch layer of water on top of their dip helps it stay green longer.