Showers can get nasty. You have to deal with soap scum, grout stains, and water spots that can leave you feeling like you're dirtier when you get out of the shower than before you got in! And none of us want to use harsh chemicals to bring back that sparkle. This homemade shower cleaner utilizes the power of oxyboost and stain-fighting enzymes to really deep clean and makes your shower feel new again!
Recommended Ingredients for Shower Cleaner
Most traditional shower cleaners are packed full of harsh, toxic chemicals that while they may get the shower clean, are terribly toxic and harmful to your body. They can be absorbed into your skin and inhaled while using them, as well as long after you've finished cleaning. I love that the ingredients in my homemade shower cleaner are safe and natural and that they don't make me choke when I'm cleaning the shower. They're also safe for the septic system and the environment. It's literally worry-free.
I'm sure there are other brands of oxy cleaners and enzymes to fight stains, but I'm partial to the OxyBoost Brightener and Enzyme Stain Remover from TrulyFree. This company works super hard to bring us naturally safe products and Dr. Z and I have partnered with them because we believe in their mission. Check them out here!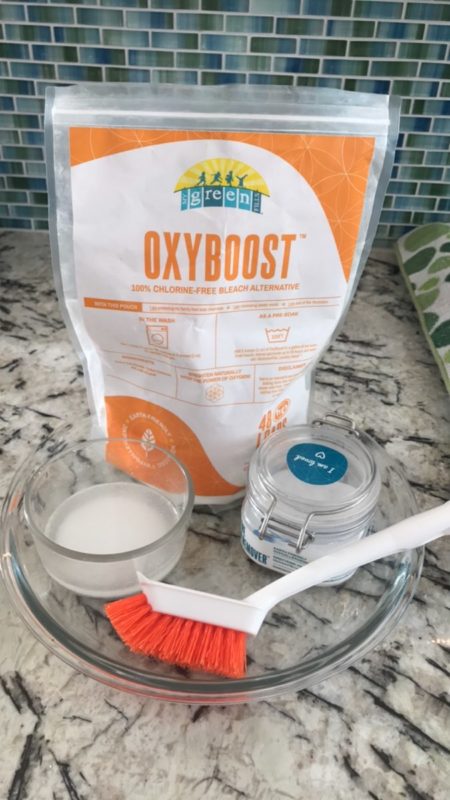 Homemade Shower Cleaner Powder
Homemade Shower Cleaner
Ingredients
Supplies:
Small mixing bowl or glass measuring bowl
Scrubbing tool
Instructions
In a small bowl, mix the OxyBoost, Enzyme Stain Remover, water, and lemon essential oil until smooth.
To use, dip your favorite scrubbing tool in the mixture and get to work!
Notes
*You can also use tea tree essential oil to help fight fungus-like mold! Simply add three drops to this recipe, or entirely replace the lemon if you'd like.

For extra germ-fighting power, you can replace the lemon EO with our Immune Boost Blend. To make a bottle, mix equal parts Cinnamon Bark, Clove Eucalyptus, Rosemary, Orange, and Lemon essential oil.
There are so many opportunities throughout your home where you can replace toxic chemicals with natural, safe alternatives. From
the bathroom
to
the laundry room
to
the kitchen
and far beyond, there are healthier options than the standard products you pick up at the grocery store, which work just as well without all of the dangers.
If you are ready to take control of your home and start taking steps toward creating a toxic-free home, Dr. Z and Mama Z have put together a home tour that will help you get started. Dr. Z and Mama Z's Toxic-Free Healthy Home Makeover takes you room by room through their home, showing you how they have eliminated toxic chemicals from their everyday lives. You'll get tips, and tricks, and find places where you can make simple changes to get on the road to a healthier life for your whole family.
You'll find great ideas for the kitchen, pantry, laundry room, bathroom, and garden to help tackle many trouble spots. Plus, you'll find shopping lists, simple checklists, and a full guide for each of these areas in your home to help you and your family start living the best, healthiest life possible.