It's official, America is currently under national social distancing restrictions until (at least) the end of April and one step closer to full martial law lockdown like we're seeing in Italy, India & Puerto Rico.  We still have some freedoms left and the Federal Government is leaving the decision to each State to determine how far and wide to enforce stay-at-home orders, but still….
ALL "non-essential" businesses are closed
States are closing ALL schools for possibly the remainder of the school year
Public events of more than 10 people have cancelled across the nation
And, millions upon millions of people are out of work.
To make matters even more daunting, the Centers of Disease Control and Prevention (CDC) is telling us that to hunker down and prepare for 24 months of COVID-19 various levels of social distancing and a new, restrictive way of life. (NPR)
This virus is going to be with us. I'm hopeful that we'll get through this first wave and, and have some time to prepare for the second wave. I'm hopeful that the private sector in its ingenuity and working with the government, NIH, will develop a vaccine that ultimately will change the impact of this virus. But for the next 24 months, you know, we're all in this together, and the most important thing that we can do is twofold: the American public fully embracing the social distancing that we requested to protect the vulnerable; and secondly, to operationalize the bread and butter of public health — you know, early case identification, isolation, contact tracing — so that this outbreak does not get the upper hand, as it has, unfortunately, in New York City, in northern New Jersey, and now New Orleans. ~ Dr. Robert Redfield, CDC Director
We understand that the COVID-19 outbreak is really (really) scary, and a lot of our Natural Living Family are overwhelmed by what's happening. We are praying for you.
Please take the fact that we're in a state of National Emergency seriously… NOW is the time to prepare!
Successful Prep Tips
First off, our heartfelt prayers go out to every victim of the virus, their family members and everyone who is suffering today because of this horrible illness. Please join us in prayer for healing, wholeness and that this outbreak will STOP immediately!
Second, we hope this special Natural Living Family Coronavirus Update will provide peace of mind to you and your family members who are afraid of how this outbreak could affect your health (or put your life at risk).
Third, we have found that keeping proper perspective is key during this time of global fear and panic. In fact, all the global authorities agree, now is NOT the time to panic, and maybe watching less news is the best thing for us all to do right now.
Mama Z just went to Whole Foods today to stock up on extra groceries and ALL frozen fruit/veggies, milk, yogurt, water and other necessities were SOLD OUT. This is just the beginning.
If we experience a "lock down" like in Italy…
You will need to be prepared to have at least TWO (if not THREE) WEEKS worth of food and the tools 

that you need 

to stay healthy – or get well if we're infected (i.e. supplements, herbal medicines, etc.)
Restaurants & stores will be closed –> you will need to be prepared to make ALL your food.
And, if laborers are not permitted to travel to work, warehouses will be unable to process and deliver many of the products we regularly enjoy. So, NOW is the time to order stuff online!
Please note, this is NOT meant to scare you, but to help you prepare…
We have tried our best to keep you informed and to continue to provide strategies to help you stay ahead of the curve here. People keep asking us what we're doing to protect our family, especially because Mama Z is pregnant with Baby Z #5.
Here are some practical tips for you:
Load up on organic frozen veggies & fruit, nuts, grains & beans (if you don't have a deep freezer or an extra refrigerator – consider picking up one if you have a larger family.)
Spend some time this weekend making extra meals, soups, healthy comfort foods & freezing them to make your life easier in the upcoming weeks.
Diffuse your immune-boosting essential oils

 throughout the day

 & focus on healthy behaviors – you do NOT want to dampen your immune system.
Ramp up your immune-boosting strategies.
Stay active and don't forget to exercise – even if it's inside your home.
Stay in contact with people. If you are quarantined or practicing social distancing, use Facetime, Skype FB Live or whatever app you have to prevent social isolation.
Fast from social media and the news for a few hours each day. Too much negativity will weigh you down emotionally and stress you out – thus dampening your immune function.
Make your own hand sanitizer, hand soap, and all-purpose cleaner (many stores are running out & most of the store-bought stuff is full of dangerous chemicals).
We are also stocking up on key pantry items and other helpful products. And, most importantly, we're keeping a clear head, focusing on self-care and approaching this like the flu…
Approaching COVID-19 Like the Flu
Bottom line: handle coronavirus like the flu.The most effective way to prevent viruses from infecting you is by building up your immune system. Your #1 defense against infection.
Build your immune system.
Keep your hands and home clean of environmental toxins.
And, most importantly, don't freak out.
Immune Boosting Resources
If you've followed our work for a while, you know what we recommend to boost immunity: clean air, clean water, clean food, minimize environmental toxins, etc.
It's all the same stuff we do every day so we're not worried about it. Still, taking our Immune Boosting "Flu Shot" once a day can't hurt.
Here are 8 EDUCATIONAL resources on our website that will help you boost your immune system:
Supplements to Stock Up On
After evaluating COVID-19 and various treatment options, Chinese health experts have recommended high doses of vitamin C. (Weixin)
In addition to educational resources, here are some Immune-Boosting PRODUCTS we recommend (note all of these companies are offering our Natural Living Family community special discounts to help these products be more affordable):
Stock up on Vitamin C – the nutrient China used to help stop the outbreak.
Get some organic greens powder – stores will run out of fresh produce soon.
Incorporate TurmeriCBD to soothe inflammation/stress.
Wear a Harmoni Pendant to protect from EMFs & other tech stressors.
Take vitamin D3 every day – especially if you're not getting a lot of sun.
Protect yourself with Beta Glucan – the #1 most researched immune supplement in the world
Protect your kids with Beta Kids – your children will love these tasty gummies!
Drink Matcha Green Tea – 18x more antioxidants than blueberries.
Drink Healthy Coffee – not the store-bought stuff – if you like your "Joe."
Listen to Wholetone for Deep Sleep – proper rest is key during times like this.
Get an AirDoctor – air purifier show to filter out viruses – if you've been on the fence, NOW is the time!
Get an AquaTru (Bottled water is going to be a premium as store run out).
Join Thrive Market to load up on your pantry staples – especially if you've been quarantined or are practicing social-distancing.
And… stay educated…
We encourage you not to waste your extra time at home binging on Netflix shows. Take advantage of these few weeks with your family and get educated about natural living with one of our books or a F-R-E-E screening of one of our classes…
The REAL Facts (Debunking SEVEN Coronavirus Myths)
The World Health Organization has confirmed that 80% of all COVID-19 cases will only develop into "mild symptoms" for infected individuals. (WHO)
In China, where the virus was first detected a few months ago, the number of new infections continued to dwindle down to just a few each day, and Wuhan (the epicenter of the outbreak) is back to business as usual. (Washington Times, WHO). This is GOOD news, though China has been suspected of falsifying their data.
Still, there are several MYTHS being spread about COVID-19 that has caused a global meltdown, and I have found these SEVEN coronavirus myths to be most troubling…
Master the Art of Using Essential Oils at Home! To help you reach your health goals with essential oils, please be sure to take the time to learn the fundamentals of aromatherapy. To help you do this, we have created a 10-Part Video Masterclass that we want to give you an opportunity to watch for FREE. This is our gift to you for being part of our Natural Living Family All you need to do is reserve your spot by clicking HERE. We'll see you there!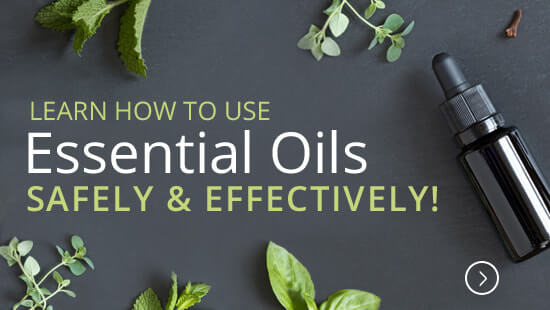 MYTH #1: The Fatality Rate
Don't believe the media, the 2020 coronavirus (COVID-19) does not appear to be nearly as deadly as it's portrayed to be – and it's nowhere near the fatality of SARS or MERS. Yes, elderly, immune-compromised people are dying. In fact, "a China study shows that for coronavirus patients aged 70 to 79 the death rate more than triples. For those older than 80 it's more than six times as high." (NPR)
But, it's nothing for the vast majority of people to go hysterical about.
The newest report from Chinese data published on March 30 states that the "overall infection fatality ratio for China was 0.66%, with an increasing profile with age." (The Lancet) Yes, this is much higher than the 0.1% death rate attributed to the seasonal flu, but not nearly as high as the media claims it to be.
Plus, Oxford University researchers just published a study suggesting that millions have people have been infected since mid-January (up to half the popular of the U.K.), which would suggest that the death rate is even lower!
If the results are confirmed, they imply that fewer than one in a thousand of those infected with Covid-19 become ill enough to need hospital treatment, said Sunetra Gupta, professor of theoretical epidemiology, who led the study. The vast majority develop very mild symptoms or none at all. (Financial Times)
Here's what the New England Journal of Medicine says:
On the basis of a case definition requiring a diagnosis of pneumonia, the currently reported case fatality rate is approximately 2%. In another article in the Journal, Guan et al. report mortality of 1.4% among 1099 patients with laboratory-confirmed Covid-19; these patients had a wide spectrum of disease severity. If one assumes that the number of asymptomatic or minimally symptomatic cases is several times as high as the number of reported cases, the case fatality rate may be considerably less than 1%. This suggests that the overall clinical consequences of Covid-19 may ultimately be more akin to those of a severe seasonal influenza (which has a case fatality rate of approximately 0.1%) or a pandemic influenza (similar to those in 1957 and 1968) rather than a disease similar to SARS or MERS, which have had case fatality rates of 9 to 10% and 36%, respectively.
According to a top Chinese health official, Liang Wannian, the fatality rate is China has been between 3-4%. Though, this is only for extreme concentrations of people infected. Outside of Wuhan — the city at the epicenter of the outbreak, the death rate in China has been about 0.7% – closer to the flu virus. (NPR)
NRP reports that "a study released by China's Center for Disease Control last month, found that if you factor out all the data from Hubei province, where Wuhan is located, the fatality rate in the rest of China drops to 0.4%. (NPR)
It's important to note that the death rate has steadily dropped as the disease spreads, and the earliest, most severe cases made COVID-19 look like a much fatal that it really is.
According to the China CDC study, among patients whose symptoms started between January 1 and January. 10 the death rate was 15.6 percent. But it was just 0.8 percent among those who didn't get sick until February 1 to February. 11. (NPR)
We should expect this pattern of progressively dropping death rates in other countries as well.
MYTH #2: Things Are Getting Worse
I just read a headline from CNBC, "Up to 150 Million Americans are Expected to Contract the Coronavirus, Congressional Doctor Says."
What a load of malarkey.
As COVID-19 travels the world, the imminent threat of doom looms over every nation. It's important to keep a close eye on China as the Asian country of 1.4 billion residents has become the ideal case study for us all to learn from.
Good News (assuming that China health officials are reporting honestly)…
Of the roughly 81,000 people infected in China since December 2019, nearly 62,000 or 76% have FULLY recovered already and that number is climbing fast. (Tasmin News, WorldOMeters)
Plus, there are only 31 new reported cases in China in the last 24 hours. COVID-19 has officially lost steam in China, which is great news – the life cycle of this virus is quick! (WorldOMeters, WHO)
The last two of 16 temporary hospitals in Wuhan, China have officially been shut down. "The final group of 49 patients walked out of the Wuchang temporary hospital in the capital of Hubei province on Tuesday afternoon to cheers, according to the Xinhua news agency. (New York Post, Xinhua News Agency)
It cannot be stressed enough that only 56 per 1 million Chinese residents have been infected. Even in the most heavily affected countries, we're only seeing 206 per 1 million Italians, and 153 per 1 million South Koreans infected.
Yes, it is such a tragedy for those who have lost their lives, and our hearts go out to their families… but the total death toll of ~4,700 people is NOTHING compared to the 25,000–54,000 that die from the flu every MONTH. You are even twice as likely to be killed as a pedestrian than you do losing your life to this virus!  (Dept of Transportation, Lancet)
Now, we must keep a close watch on other countries to see if this 3-4 month COVID-19 life cycle remains a constant. If so, then this entire situation will be only be a memory in the U.S. coming early summer with relatively few people being affected and losing their lives.
Bottom Line: COVID-19 acts quick, in and out – kills a high number of elderly and immune-compromised people, leaves kids alone and pretty much goes away after a couple months.
Again, China has 1.4 billion residents and only ~ 81,000 have been infected since December, and yesterday (March 10) only 31 new cases were reported. (
WHO
)
MYTH #3: Everyone is Equally at Risk
When we look at the death toll, the numbers become quite clear at who truly is at risk and who's relatively "safe."
From the Washington Post:
"In China, only 2.4 percent of reported cases were children and only 0.2 percent of reported cases were children who got critically ill, according to the World Health Organization. China has reported no case of a young child dying of the disease COVID-19….For ages 10 to 39, however, the fatality rate is roughly 0.2 percent, according to a separate study drawing on patient records of 44,672 confirmed cases. And fatalities and severe symptoms are almost nonexistent at even younger ages."
Thus, the new coronavirus is behaving differently from other viruses, like the seasonal flu, which are usually dangerous for both the very young and very old.
Bottom line, kids and 99% of most healthy adults should not be overly concerned about the coronavirus.
"Meanwhile, the new coronavirus has proved especially deadly on the other end of the age spectrum. The fatality rate in China for those over 80 is an estimated 21.9 percent, per the WHO.
These data points help put things into perspective, don't they?
MYTH #4: The Media Can Be Trusted
This recent New York Times headline says it all… Coronavirus Live Updates: Governments Struggle to Cope as Anxiety Rises.
Not trusting the media at this point should be a given. They are virtually 100% responsible for the pandemonium that is happening right now.
Fear. That's what the media is spoon-feeding the world as coronavirus pandemonium has officially fever-pitch.
Let's see what the global authorities have to say about this recent "outbreak" and whether mainstream media can be trusted…
"We're not just fighting an epidemic; we're fighting an infodemic. Fake news spreads faster and more easily than this virus, and is just as dangerous. That's why we're also working with search and media companies like Facebook, Google, Pinterest, Tencent, Twitter, TikTok, YouTube and others to counter the spread of rumours and misinformation." 
To help find proper perspective…
First off, yes, we are validating that COVID-19 is a serious threat, but it is NOT a time to panic. The current situation is being presented by the media as being unprecedented and has been greatly over exaggerated, thus causing mass chaos across the globe.
To compare with the H1N1 virus outbreak from April 12, 2009 to April 10, 2010, in the U.S. (CDC)
60.8 million cases
274,304 hospitalizations
12,469 deaths
No global chaos, no national shut downs, no mass fear.
Globally, the H1N1 outbreak:
151,700-575,400 deaths during the first year the virus circulated.
80% of (H1N1) virus-related deaths were estimated to have occurred in people younger than 65 years of age.
NOTE: This differs greatly from typical seasonal influenza epidemics, during which about 70- 90% of deaths are estimated to occur in people 65 years and older.
Again, no global chaos, no national shut downs, no mass fear.
Now… not to get political here or into conspiracy theories, but every EVERY election year seems to feature a disease outbreak/virus scare. Coincidence?
SARS – 2004
AVIAN – 2008
SWINE – 2010
MERS – 2012
EBOLA – 2014
ZIKA – 2016
EBOLA – 2018
CORONA – 2020
Makes you wonder, doesn't it?
The main concern we should have is this irrational fear media has placed in people across the globe. This is BIG news for them and they are making TONS of money as their ratings skyrocket – advertisers are loving this.
You'll want to be prepared with the things that we'll need if they quarantine a street, neighborhood, your church, school or city. Citizens across all countries are hoarding toilet paper and bottled water and the government is intervening. Schools and public events are closing at alarming rates.
The world is in chaos over this and it is 100% based on irrational (media-driven) fear, and the media is having a hay day with us here.
MYTH #5: There Are Proven Natural "Cures"
From a natural health perspective, don't believe the online chatter: oregano oil will NOT kill this strain in 20 seconds. I'm sure essential oils will help, but this thing is so NEW, no research has been done about the therapeutic efficacy of essential oils preventing/treating COVID-19. That's why it is referred to as a "novel" coronavirus. Novel meaning, "new."
I'm as much of a proponent of natural medicine as the next guy, but let's not go overboard. There are no known natural cures for the new coronavirus.
This is what happened in 2014 when multi-level marketing distributors and bloggers were claiming essential oils could "cure" ebola. Next thing you know, the FDA cracks down on doTERRA & Young Living and the freedom of speech that millions of distributors used once enjoyed was stripped away in seconds. We don't want that to happen again. (FDA doTERRA Warning Letter, FDA Young Living Warning Letter)
In fact, the FDA just issued a warning letter to Quinessence Aromatherapy, LTD from the UK because, "it is unlawful under the FTC Act, 15 U.S.C. 41 et seq., to advertise that a product can prevent, treat, or cure human disease unless you possess competent and reliable scientific evidence…To make or exaggerate such claims, whether directly or indirectly, through the use of a product name, website name, metatags, or other means, without rigorous scientific evidence sufficient to substantiate the claims, violates the FTC Act."
"There currently are no vaccines, pills, potions, lotions, lozenges or other prescription or over-the-counter products available to treat or cure coronavirus disease 2019 (COVID-19)." (FDA Quinessence Warning Letter)
When it comes to "preventing" coronavirus, the key is boosting your immune system, like it is with preventing the flu. See below for some solid recommendations on how to do that.
MYTH #6: Preventative Quarantining & Wearing Masks Help
A well-known online influencer was recently speaking at an event where another speaker discovered he had COVID-19. So, to do what was "socially responsible," the healthy, presumably uninfected influencer put herself in self-quarantine because she had contact with this infected person, and announced it to the world as a badge of honor. When I watched her video, I was not only shocked, but saddened. Here's why…
When you consider that 80% of those who are infected with the COVID-19 will have cases involving mild symptoms (according to  World Health Organization (WHO) spokesman Tarik Jasarevic), is preventative quarantining really necessary?
Fear has taken people to the extreme here, and isolating people and blocking off communities, cities and entire countries because groups of people may have the potential of being "carriers" of the virus doesn't make sense from a public health perspective, nor is it humane. Same with preventing social gatherings larger than 250 – 500 people or whatever the arbitrary number is that local and state governments are coming up with.  All this may possibly do is slow down the spread of an outbreak, it will not stop it, which I'll get into below in more detail.
Now don't get me wrong. "Social distancing" (staying away from people if you're sick) is just plain common sense. If you have a cold, flu, coronavirus, pneumonia or any contagious health condition, like always, stay home. Why put others at risk of being infected? And why put yourself at risk of getting sicker!
Preventatively quarantining individuals and communities for 2+ weeks, however, is a completely different story.
Fact is, quarantining people away from society does NOT guarantee that the virus will stop spreading. It only (slightly) slows it from spreading.
"As the CDC and other public health agencies know, quarantine by itself may delay the spread of an infectious disease, but it cannot prevent or end any disease outbreak. It has not succeeded in the past and is ill-suited to the realities of the contemporary world."
In fact, history tells us that attempts at preventative quarantining people in the past generally fail miserably. (New York Times) For starters, it's extremely costly and unsustainable – particularly for the working middle and lower classes. How are day workers supposed to support themselves if they're cooped up for 2 weeks? Not to mention, isolating someone for 2 weeks is inhumane (14 days is the longest incubation period seen for similar coronaviruses so this is where health authorities came up with this time frame).
Preventative quarantining has already proven to be ineffective as the virus continues to spread, and it will continue to spread until it reaches its course – no matter how hard we try by shutting down schools and closing businesses.
The repercussions of quarantining people has more serious ramifications…
"Fear of being quarantined itself can create resistance. If you're afraid you're going to get locked up somewhere, you may not want to admit you have an illness. You may not want to go to the doctor for fear of being reported. If you are told you can't leave your city, you might flee. That's what happened in China during the SARS outbreak. A rumor that the government was planning a large-scale involuntary quarantine caused nearly 250,000 people to leave Beijing. And quarantines aren't without their costs. The Wuhan quarantine has had numerous unintended effects, some of them fatal. People were unable to reach sick, elderly parents in the city, let alone take them elsewhere for treatment of chronic conditions like heart disease and cancer. The United Nations AIDS agency recently announced that one-third of people in China who are living with HIV were at risk of running out of their HIV medications because of lockdowns and travel restrictions. The quarantine has also severely slowed China's economy."
Similar to preventative quarantining, wearing construction and general surgical masks is not effective at all. In fact, as the recent headline clearly states, "Surgeon General Urges the Public to Stop Buying Face Masks." (New York Times)
"Seriously people — STOP BUYING MASKS!" the surgeon general, Jerome M. Adams, tweeted. "They are NOT effective in preventing general public from catching #Coronavirus, but if health care providers can't get them to care for sick patients, it puts them and our communities at risk!"
Adams' plea comes as a response to panicked consumers who are rushing to buy masks online, which has led to price gouging and counterfeit products.
Thinner surgical masks that many people are wearing were designed for surgeons, because they can help keep airborne pathogens being omitted from the surgical from the entering doctor's nose and mouth. However, they are not effective at keeping out viral particles because they do not fit tightly enough around the nose and cheeks as a more specialized mask – known as an N95 respirator – this can help with COVID-19. The N95 respirator is thicker than a surgical mask, but it is not recommended for public use at this point.
MYTH #7: Chinese Food & Products Are Unsafe
Now, don't get me wrong, I'm not condoning eating fried foods and I would never recommend eating at most Chinese restaurants (unless they serve organic non-GMO food), but the coronavirus scare is shutting down Chinese restaurants and is killing our economy.
"It's been terrible for business," Thomas Lo said, owner of Spy C Cuisine of Queens, New York, "None of our food comes from China, but that doesn't matter to diners. I don't know what motivated the scare. A lot of it is misinformation," said Lo, who told reporters that business is down more than 50% from a month ago. "It's killed a lot of restaurants and others are just getting by, trying to survive." (New York Post)
Same goes with products made in China. They are not inherently more dangerous than non-Chinese products, and you don't have to be worried of cross-continent contamination. Yes, it is true that the virus can be spread through inanimate objects like door knobs, glass, and plastic, but research of other coronaviruses found they remained for two hours to nine days only. (Journal of Hospital Infection) So, if a product you are buying came from China, it did not get onto the shelves and into your hands until well after nine days – so no worries there.
This may seem like common sense stuff (and it really is), but THIS is all the stuff that we're seeing in the news. There are more myths out there (many in fact), but if we can wrap our heads around these three, we'll be in good shape.
Join Us in Prayer
Yes, COVID-19 has been tragic for tens of thousands of people, but… to compare with H1N1 and the 25,000–54,000 that die from the flu every MONTH, it does not warrant the reaction we've seen thus far.
Stay safe, we love you and join us in prayer that:
This outbreak stops
Our economies will bounce back
People will recover quickly
Become a Natural Living Guru! To enjoy an abundant (healthy) life, we have found that living a life free of harmful chemicals is crucial for physical, mental, emotional and especially spiritual wellbeing. However, most people don't know where to start. So, to help you on your journey, we have created a 5-Part Video Home Tour that shows you exactly how we have detoxed our home (and life!). As part of our Natural Living Family, we want to give you an opportunity to watch it for FREE. All you need to do is reserve your spot by clicking HERE. We'll see you there!