Inspired by the formula I used to heal my face after a chemical burn, this Anti Aging Cream and Skin Healing Serum has helped thousands of people enjoy vibrant, glowing skin! In fact, it's one of the reasons my skin looks so young and healthy. It's not something I like to brag about, but people usually think I'm in my 20s — even though I'm 41 years old!
So, today I'm going to share my recipe for my DIY anti-aging cream with you, as well as some tips for modifying it for your own use, and a story of how this helped my dad with some skin cancer on his hands.
My Dad's Skin Cancer Story
My dad is a retired PhD agriscientist and farms as his life hobby. In addition to his full-time job, he has literally spent more than 40 hours per week in the garden since as long as I can remember. Basically, he lived outside during the growing season and sun time hours after getting home from work, and a lot of our family time was spent picking weeds and harvesting our produce. Now that he's been long retired from the ag business, he's still in the garden year round. I have him to thank for my work ethic, my green thumb and my sensitive skin!
You see, dad's been bald for years and he's always had a problem developing cancerous lesions on his scalp. He goes through ball caps like my mom and I go through panty hose, but that still doesn't keep all the sun away from his pale, Irish/Scandinavian skin. For decades, my dad has battled melanoma on his head and has recently developed lesions on his arms and hands.
During my dad's most recent bout with skin cancer two years ago, he showed me the cream his doctor prescribed for him and one of the side effects was cancer! Isn't that crazy! I still can't get over the insanity behind an anti-cancer skin cream causing cancer in other parts of the body. Blows my mind. Anyway…
Dad had pre-cancerous spots all over his arms and hands, and he was applying this cream on his skin for months after having several tumors removed. Unfortunately, this approach didn't really help at all. In fact, the skin began to scale and resembled a candida infection when I saw him during his annual trip with my mom to visit me, Eric and the kids.
I asked him if he wanted to be healed and he said, "Of course!" I asked him if he'd be willing to try my DIY anti aging cream and he said yes, but only if he could finish off the prescription stuff he was using. I said, "Fair enough," and went to work!
I ended up making my dad 2 varieties of my anti aging cream for him to try: 1 with lavender oil and another with lavender, tea tree and frankincense. He used both my DIY anti aging cream and the prescription stuff for a short time and ended up only using my concoctions alone. Within 6 weeks, his hands and arms were completely clear and now he's a believer in the power of DIY anti aging cream with essential oils!! 😉
How to Use Healing Skin Serum
If you have something like eczema or dry skin, it can help to neutralize the PH of the skin and gently exfoliate before using the DIY anti aging cream. My favorite way to do this is to put some Bragg apple cider vinegar on a cotton circle (like you'd use for cosmetics) and gently wipe the area.
Dryness is the #1 cause of wrinkles, so we need to focus on hydrating our skin in a healthy way. This is why this recipe for DIY anti aging cream works so well, but it also works wonders for sunburns and light eczema; which are also related to dryness. You could use it for just about anything though because it's gentle and safe for any skin!
Importance of Pure Aloe
Your skin is literally a sponge and will absorb the chemicals that are in your body care products. This is why I like to use only pure, non-toxic ingredients in my DIY recipes – especially aloe gel! Most aloe you'll find on the market is laced with a lot of fillers and junk toxins, so be sure you choose a brand that is:
100% Pure
Chemical Free
Inner Leaf Gel Only
Preservative Free
Free of thickeners, citric acid and sodium benzoate
Raw- no pasteurization
Not decolorized
Not deodorized
We like to get our aloe from Stockton Aloe 1. We know the owners and they're good Christian people that we trust. Their sourcing is top-notch and their product is like something we've never tasted before. Seriously, we can drink a glass of this stuff a day – it's so healing for the gut and entire body! If you want to try it out, don't forget to let Dr. Michael Haley and his team know that we said, "Hi!" 😉
One of my favorite ways to adapt the base recipe above is to add skin healing vitamins to the mix. You can add 1 1/2 teaspoons each of Vitamin E and liquid Vitamin A (in the form of rosehip seed oil.) for soothing and nourishing additions that will help preserve the serum.
For bad eczema I like to cut back to 4 drops of lavender essential oil and add 2 drops each of frankincense and tea tree essential oils.
If you have other oils you're wanting to use, or you think you might like to make up multiple blends you can make a large batch of the cream by just mixing the aloe gel and coconut oil in a 1:1 ratio, then for every one ounce (2 T) of the cream, add up to 8 drops of essential oils of your choice. You can mix and match as desired!
Anti-Aging & Skin Healing Serum
Anti-Aging Cream & Healing Skin Serum
Instructions
Blend the aloe gel, coconut oil, and essential oil in a food processor or blender until smooth.
Once well mixed, store in a glass jar or salve container in a cool place (like the fridge) so the coconut oil remains hardened.
Apply over any problem areas on your skin at least once per day.
Notes
* No matter what allergies you may have, there's a
carrier oil
that's right for you. You can use any, or a combination of these: Avocado, Fractionated Coconut, Grapeseed, Jojoba, Sweet Almond.
There are countless variations of this skin healing serum and our
Bible Health Academy
members have told us they've tried everything from geranium and turmeric essential oil to help their body heal from squamous cell carcinoma to frankincense for psoriasis to using the base recipe without essential oils to soothe a diaper rash or yeast infection.
See below for a recent testimonial that we found super encouraging…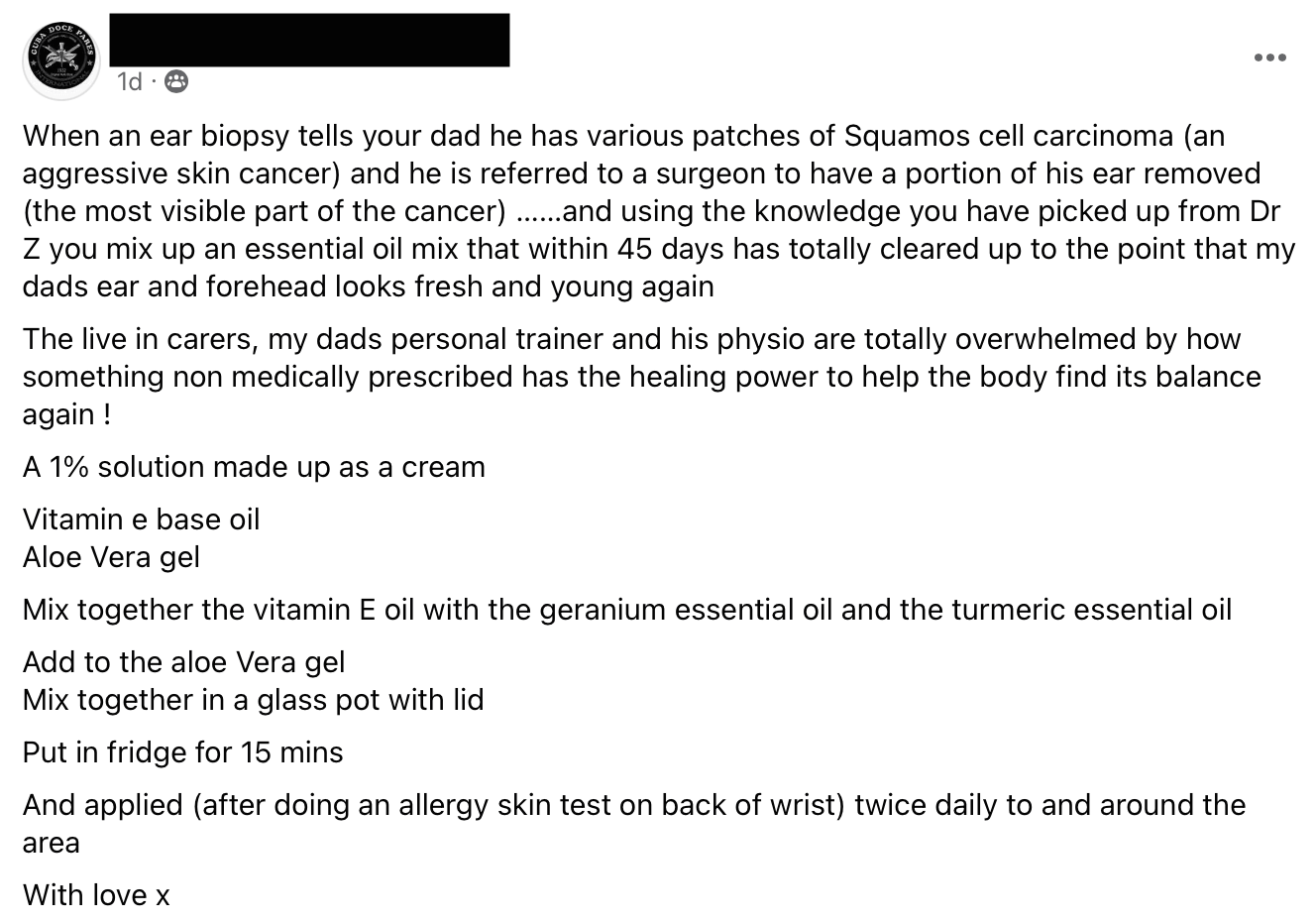 Truthfully, we see this stuff all the time, and it's an every day occurrence for people that are part of our Bible Health Academy.
Yes, we get a lot of hate mail and trolls comment on our social media posts every single day. People criticize us for being open about our faith. Others condemn us for promoting natural remedies like essential oils. Others scoff at our success, and say that we don't have the right to speak about health because we are not MDs.
But, none of that matters because we know we're doing God's work and when we receive encouragement and testimonials from our members – it makes it all worthwhile…
The DIY solution referenced in this post is not one of our recipes, but it was inspired by the formulas that we teach.
That's what we're about: giving people the fishing polenamd teaching them how to use it, so they can fish for themselves.
This is true empowerment…