An Inspirational  Story of Faith, Courage & Hope

By submitting this form, I consent to receive daily updates & related promotional emails. I can withdraw at any time.
Privacy Policy: Your information is safe & secure. We do not share or sell information to outside parties.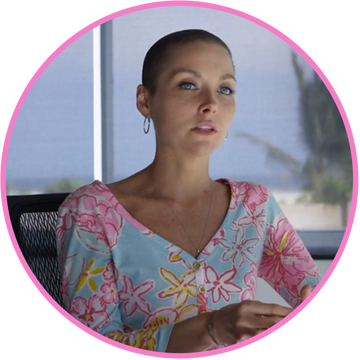 MEET ANGIE
Wife, mother, accomplished athlete, and all-around "health nut," Angela Lima's world was rocked upside-down when she was diagnosed with stage 2 breast cancer in 2017. Since then, her  "healing journey" has taken her down paths she never thought were possible and what she discovered was that cancer is not a new chapter to her book of life, it's an entirely new book! She tried everything that she could to beat cancer and, in the process, experienced a life-altering revelation that helped her discover that there is truly Hope for Breast Cancer.
COMMUNITY
JOIN THE MOVEMENT! 
What originally started off as a philanthropic $50,000 donation from a young couple affected by cancer to sponsor a patient to receive non-toxic treatments, has evolved into a global movement that is now giving Hope for Breast Cancer to thousands. 
TOGETHER, we can spread the truth that it IS possible to live a cancer-free lifestyle.
TOGETHER, we can help people understand that cancer is completely preventable.
TOGETHER, we can bring awareness to cancer patients & caregivers that the one-size-fits-all approach to cancer does not work! 
TOGETHER, we can educate patients & caregivers that non-toxic, integrative options do exist! 
TOGETHER, we can empower the millions of people battling cancer that there is truly HOPE for a solution! 
And… please keep us (and this project) in your thoughts & prayers. A self-funded charity event like this has never been done before.  We are committed to bring this message of hope to the world through FREE screenings and educational events to all the nations!
RESERVE YOUR SPOT
to Watch the Global Screening for FREE

THE STORY BEHIND THE STORY
From its inception, the Hope for Breast Cancer documentary has been a collaboration between Cancer Tutor & Natural Living Family. We are committed to educating, inspiring and empowering cancer patients and their families with the tools that they need to enjoy a healthy, abundant life.
Collectively, we serve more than 7.5 million people each year with the free resources that we offer on our websites as well as through our online programs, books and evidence-based materials that are shared across the globe.
But, we wanted to do more.
Personally affected by cancer in dramatic ways the past three years, we were moved to start sponsoring cancer patients to receive non-toxic, integrative treatments and to document their stories as a Public Service Announcement to the world that:
It is possible to successfully prevent cancer from developing in your body!
There are safe, evidence-based options to the one-size-fits-all approach to cancer treatments that so often disappoint patients and leave them hopeless.
There is truly hope that cancer patients can get well!
We are committed to filming more documentaries to highlight various clinics across the world, and tell the stories of the patients who have benefited from their safe, non-toxic treatments.
 Our hope & prayer is that you enjoy a healthy, cancer-free, abundant life!
~ Dr. Eric Zielinski ("Dr. Z"), Director & Producer